2015 Bundeschampionate Qualifier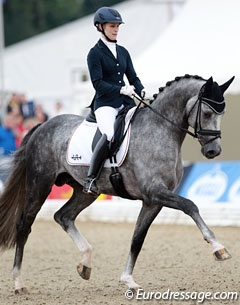 The 5-year old Deluxe and the 6-year old Belantis won the Bundeschampionate qualification classes at the regional show in Krefeld, Germany, held at the Kuhnen riding center on 4 - 7 June 2015. The L and M level dressage horse tests were judged by Hans Peter Schmitz, Peter Mannheims and Camillo Thomas Hündgen.
In the L-level dressage horse class for 5-year olds Laura Blackert steered Anja Walterscheidt's Rhinelander mare Deluxe (by Don Primus x Wolkentanz II) to victory with an 8.1 total score. The dark bay mare received 8 for walk and canter, 8.5 for walk, 7.5 for submission and 8.5 for general impression.  Lydia Camp and Alida Abrar's Westfalian stallion Bordeaux' Barolo (by Bordeaux x Munchhausen) landed a second place with 8.0. Her chestnut scored 7.5 for trot, 8.5 for walk and canter, 7.5 for submission and 8 for general impression.
Beatrice Buchwald and the grey stallion Belantis (by Benetton Dream x Expose) made their first BuCha outing of the season after winning the 5-year old finals in Warendorf in September 2014. The combination dominated the 6-year old class with an 8.5 total score. The stunning grey got 9.5 for trot, 8 for walk, canter and submission and 9 for general impression. Stefanie Wolf and Next Generation Dressage Horses' Rhinelander mare Saphira (by San Amour x Monteverdi) were second with 8.4. This dark bay mare got 9 for trot, 8.5 for walk, 7.5 for canter and 8.5 for submission and general impression.
Photo ©  Astrid Appels
Results - 2015 Bundeschampionate qualifier - Krefeld
5-year olds
1. Deluxe  (by Don Primus x Wolkentanz II) - Blackert,Laura  -8.10
2. Bordeaux' Barolo (by Bordeaux x Münchhausen) - Camp,Lydia  - 8.00 
3. Damon's classic (by Damon Hill) - Schiergen,Heiner  - 7.80
4. Serano (by Son of Cologne x Donnerschwee) - Hartmann,Katharina  - 7.40
5. Diwero (by Damon Hill x Royal of Loh) - Schüren,Carlotta  - 7.30  
6. Fürst Fohlenhof (by Fidertanz x Mephistopheles) - Neukäter,Lisa  - 7.20   
7. Aston  (by Ampere x Florestan) - Welbers,Marina  - 7.00   
7. Lapusch (by Louis le Bon x Future) - Pfeiffer,Martin  - 7.00   
7. Lights Guide Me Home (by Licotus x Curacao I) - Schumacher,Tina  - 7.00   
10. Smaragd  (by Sir Donnerhall x Rubin Star N) - Melanie Frieß  - 6.90   
10. Don Carismo (by Don Crusador x Carismo) - Timpe,Andrea  - 6.90   
10. Desmond Tutu (by Dancier x Londonderry) - Linde,Carolin van der  - 6.90   
10. Fantastival (by Floriscount x Wolkentanz I) - Liebenstein,Wendy  - 6.90   
14. Farewell's Anyway (by Farewell III x Granulit) - Wieser,Stefan  - 6.80   
14. Dave R (by De Niro x Quattro B) - Hoffmann,Christina  - 6.80   
14. FS La Viva (by Lord Loxley x Lucito) - Ebben,Janine  -6.80   
17. Leev Linda Lou (by Lord Loxley x Rubinstein) - Sander,Martin  -  6.70   
18. Figulus (by Fidertanz x Carpaccio) - Mispelkamp,Regine  - 6.00   
6-year olds
1. Belantis (by Benetton Dream x Expo'se) - Buchwald,Beatrice  - 8.50
2. Saphira (by San Amour x Monteverdi) - Wolf,Stefanie  -  8.40  
3. Step up (by Sir Donnerhall x Ehrentusch) - Frenzen,Annabel  -  7.90
4. Kamani Hill (by Cadeau x Lehndorff's) - Bäumer,Annika  -  7.80   
4. Fidibus (by Fidertanz x Hohenstein) - Camp,Lydia  -  7.80
6. Bodyguard (by Burlington x Pik L) -Freund,Jana  - 7.60   
7. Bravo (by Belissimo M x Fidermark) -Welbers,Marina  - 7.50   
7. Rainbowdancer (by Rock Forever x Dimension) -Liebenstein,Wend -  7.50   
7. Dream of Tomason (by Diamond Hit x Lauries Crusador xx) -Liebenstein,Wendy  - 7.50   
10. Rotruschels (by Royal Doruto x Welt Hit II) -Ernst,Tanja  - 7.10   
11. Fly Rio (by Fürst Nymphenburg I x Weltmeyer) -Sigge-Pompe,Alexa  -  7.00   
12. Distelgraf (by Kronprinz x Gelria) -Lehnert,Peter  -  6.50   
 Lindström (by ) - Unger,Anke  - RET/DNS
Related Link
Eurodressage Coverage of the 2015 Bundeschampionate