2015 Pan American Games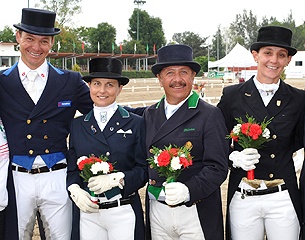 The Mexican Equestrian Federation has announced the team that will represent Mexico at the the 2015 Pan American Games in Toronto, Canada. Dressage will be held at the Caledon Equestrian centre in Palgrave, Ontario, on 11 - 15 July 2015. Mexican dressage riders were able to qualify on for the team based on their scores achieved at three trials held in the Mexico City area this spring.
The 2015 Mexican Pan Am team is the highest scoring team ever in Mexico. Never before were the qualified combinations able to score consistently above 67% in the selection trials.
The three selection trials, held in Tultepac and Mexico City, were judged by top international judges including Lilo Fore (5*) and Eddy de Wolff van Westerrode (5*). One trial was a CDI 3* in Mexico City.
The Mexican dressage team includes:
Bernadette Pujals and Heslegaards Rolex, a Danish Warmblood by Heslegaards Rubin
José Luis Padilla and Donnersberg,a Rhinelander by Don Primero
Mariana Quintana and Guapo, a Rhinelander by Lanciano
Enrique Palacios and NOH's Wizard, a Danish Warmblood by White Talisman
Photo © Castro/Dressage Mexico
Related Links
Eurodressage Coverage of the 2015 Pan American Games
Palacios Makes it a Hattrick at Third 2015 Mexican Pan Am Selection Trial
Palacios Strengthens Position on Mexican Pan Am Team Ranking after 2015 CDI Mexico City
Enrique Palacios Wins First 2015 Mexican Pan American Selection Trial at Tultepec