British Dressage News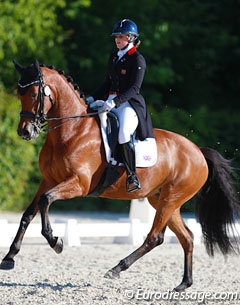 The British Dressage Junior and Young Rider selectors Islay Auty, Clive Halsall and Andrea Smith have announced their teams for this year's European Junior and Young Riders Championships at Vidauban, France, on 1 – 5 July 2015.
All selected riders, including reserves, will attended a pre-European team camp at Kilbees Farm in Berkshire on 13 – 14 June.
The selected British teams include:
Junior Riders
Amber Barton (18) on Labiat, an 11-year old stallion by  Le Primeur
Charlotte Dicker (16) on Sabatini, a 10-year old Danish mare by Stedinger
Chloe Vell (17) on Kaja Di Valentina, an 11-year old mare by K2
Erin Williams (17) on Bolsan B, a 9-year old Dutch gelding by Sandro Hit, or on Waverly, a 12-year old Dutch mare by Gribaldi.
Both Erin Williams' horses will go to the final team preparation camp next weekend where a final decision will be made. The horse not selected, will be a direct reserve for Erin.
Reserve 1: Ruth Hole (16) on Winnetou GEP, a 12-year old gelding by Gribaldi
Reserve 2: Rose Hugh-Smith (16) on Florentino, an 11-year old gelding by Florencio
Young Riders
Rebecca Edwards (18) on Ufano II, a 14-year old PRE stallion by Indeciso
Charlotte Fry (19) on Z Flemmenco, an 11-year old geldin by Flemmingh
Robyn Smith (18) on Foold Uz, a 17-year old gelding by Fulton
Anna Lawson (21) on Bryan II, an 11-year old Swedish gelding by Briar
Two reserves have been picked:
Reserve 1: Claire Gallimore (21) on Annette Ballerina, a 10-year old Dutch mare by Scandic
Reserve 2: Jessica Gale (19) on Umbro S, a 14-year old Dutch gelding by Jazz
Photo © Astrid Appels
Related Link
Eurodressage Coverage of the 2015 European Junior/Young Riders Championships