2015 Bundeschampionate Qualifier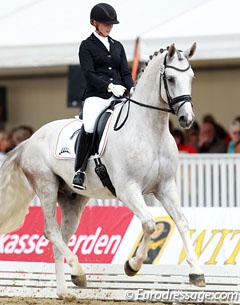 The 5-year old Sorrento Snörri and the 6-year old Fairplay H won the Bundeschampionate qualification classes at the regional show in Heidenheim, Germany, on 31 May 2015.
In the 5-year old division Meike Lang won the class with a score of 7.7 which did not suffice for a ticket to Warendorf. Lang saddled the Baden Wurttemberger stallion Sorrento Snorri (by San Amour x Ferdinand). Austrian Kerstin Kronaus was second on Hans Reisinger's Hanoverian gelding Bequia Simba (by Bequia x Sandro) wuth a score of 7.6. The pair tied with Mara Muller on Sir Diego R (by Sommertraum x Wolkentanz II). 
In the 6-year old class Ines Knoll and the grey Baden Wurttemberger bred gelding Fairplay H (by Furst Hohenstein x Disco Tanzer) were the unbeatable pair and won the test with 8.5. They kept Ramona Ritzel on the Bavarian gelding Superdry (by Sunny de Hus x La Rochelle G) at bay as they landed second place with 8.1.
Photo © Astrid Appels
Results - 2015 Bundeschampionate Qualifier - Heidenheim
5-year olds
1. Sorrento Snörri (by San Amour x Feinbrand) - Lang,Meike  - 7.7  
2. Bequia-Simba (by Bequia x Sandro) - Kronaus,Kerstin  - 7.6 
2. Sir Diego R (by Sommertraum x Wolkentanz II) - Müller,Mara  - 7.6  
4. Santiago de Chile (by Sir Donnerhall x Fidermark) - Greller,Saskia  - 7.5
5. Fuego (by Fürstenball x Münchhausen) - Gruber,Sabine  - 7.4   
6. Don Espri (by Donnerball x Epikur) - Mitter,Benjamin  - 7.3   
7. Edelstain (by Edward x Fürst Heinrich) - Häufele,Katharina  - 7.1   
7. Fesl (by Flatrate x Riccione) - Lang,Meike  -  7.1   
9. Best Dun Dance (by Falbe x Doubtless x Apslau xx) - Wallner,Franziska  - 6.8   
10. Schmusepuppe RW (by Sanyo x Lennox) - Riegger,Anja  - 6.6
6-year olds
1. Fairplay H (by Fürst Hohenstein x Disco-Tänzer) - Knoll,Ines  - 8.5
2. Superdry (by Sunny de Hus x La Rochelle G) - Ritzel,Ramona  - 8.1
3. Dolce Vita (by Don Schufro) - Michalke,Victoria  -  8.0
4. Don't stop me (by Don Diamond x Life is Life) - Casper,Nicole  - 7.8
5. Genesis (by Gribaldi x Sir Donnerhall) - Casper,Nicole  - 7.7   
6. Donna Regina (by Denario x Regazzoni) - Ritzel,Ramona  -  7.6   
7. Secret (by Sir Donnerhall I x Florestan) - Borrmann,Gisela  - 7.4   
8. De Luxe (by Don Frederico x Feinbrand) - Kronaus,Kerstin  - 7.3   
8. Sterling (by Sir Nymphenburg I x De Niro) - Prietz,Vanessa  -  7.3   
10 . Fabrice (by Farewell III x Dormello) - Bernhard,Alfred  - 6.5   
Related Link
Eurodressage Coverage of the 2015 Bundeschampionate