2015 CDN Schilde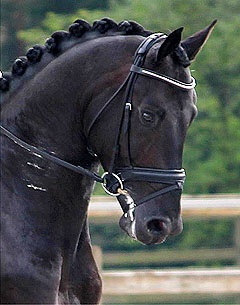 The 5-year old Forever Love and the 6-year old Jar of Ballmore were the winning horses at the fifth and penultimate Belgian selection trial for the 2015 World Young Horse Championships in Verden. The fifth leg was held in Schilde, Belgium, on Saturday 30 May 2015. The last selection trial is in Massenhoven on 13 June. The ten highest ranked horses out of six trials are invited to a finals at the CDN Overijse were the team will be picked.
In the 5-year old division Anne Sophie Fiebelkorn's student Anemone Samyn aced the Finals Test aboard her Hanoverian Forever Love (by Floriscount x Rotspon) with a score of 83.00. Sofie van Vugt became the runner-up aboard the Oldenburg mare Lovely One (by Sir Donnerhall x Sion) with a score of 82.20 points. Katrien Verreet and the Oldenburg mare Gallartica Biolley (by Galliani Biolley x Florestan) completed the top three, posting a score of 79.600 points.
In the 6-year old division Tom Heylen and the Belgian warmblood stallion Jar of Ballmore (by Gribaldi x Sunny Boy) was unbeatable after he scored 84.800 points, well ahead of second placed pair, Tom Franckx on Evento D (by Rubiquil x Goodtimes) who finished on 82.00 points. Katrien Verreet once again finished third, this time on her home bred  Oldenburg gelding Quorum Y (by Quaterline x Uniform).
Fourteen 4-year olds gathered in Schilde to gain experience and exposure. After winning at the CDN Cheratte, Dominique Mohimont again took top honours on the Dutch bred Genie (by Zhivago x Sandro Hit), this time with 85.40 points. Flore de Winne and the German bred Basali (by Belissimo M x Weltmeyer) were second with 81.800.
Results - 2015 Belgian WCYH Selection Trial - Schilde
4-year olds
1. Mohimont Dominique  -  Genie -  85,400  
2. De Winne Flore -   Basali -  81,800
3. Verreet Katrien -   Fortalezza Biolley  - 80,000 
4. Moordtgat Anke -   Dublin -  79,400
5. Vandecappelle Ine -   Generaal  -  77,800  
6. Engelen Leopold   - First Class "N" - 77,200  
7. Engelen Leopold   - First Diamond "N" - 75,600  
8. Porignaux Justine -   Glavour - 75,200 
9. Dekeyser Kelly  -  Gaya  -  71,200  
10. Vreezen Lisette  -  Levano - 71,000   
11. Bastaens Magali  -  lee roy cava  - 70,200 
12. Tepper-Casiraghi Elisabeth  -  Quinto -  68,600 
13. Vandecappelle Ine  -  Lady Kahn  -  68,400
14. Taymans Corine -   Galando -   60,000
5-year olds
1. Samyn Anemone -   Forever Love  -   83,000 
2. Van Vugt Sofie  -  Lovely One -  82,200 
3. Verreet Katrien -   Gallartica Biolley -  79,600 
3. Heylen Inge   - Kalagan "h" -  79,600 
5. Pauluis Larissa  -  First Step Fame -  77,400
6. Laevens Kevin   - Kozinsky Vd Dries -  77,200 
7. Van De Keere Frederik -   Florida - 76,400
8. Van Puyenbroek Rob   - Fabiola  - 74,800 
9. D'Hoore Brecht   - Robes Bisous   - 70,800
10. Cool Isabel  - Faithfull -  66,000 
11. Van De Keere Frederik  -  Fabe  -   65,600   
12. Vanpottalsberghe Maya  -  Berreaux - 64,200
13. Gils Caro  -  Flashpoint -  61,200
6-year olds
1. Heylen Tom -   Jar of Ballmore  -  84,800  
2. Franckx Tom -   Evento d - 82,000   
3. Verreet Katrien  -  Quorum Y  - 80,800  
4. Bosman Kara -   Jersey Girl - 79,000
5. Appelmans Eefje  -  Eldorado Pb -  77,200 
6. Mohimont Dominique  -  El Corona Texel -  76,500  
7. Samyn Anemone  -  Fuchsberger  - 74,300 
8. D'Hoore Brecht  -  Edison H - 73,700  
9. Engelen Leopold  -  Dolce 'N' -  71,900 
10. Hesters Steffi   - Emporio SH  -  71,600
11. D'Hoore Brecht  -  Sicilia van de Helle - 70,800  
12. Cappon Mieke -   Jinta - 70,100 
13. Van De Keere Frederik   - Esperance -  68,200 
14. Cool Isabel  -  Enjoy Me -  68,000  
15. Tanghe Melissa  -  Jolie  -  61,800  
16. Gheys Benedict -   Elliot - 61,600
17. De Keyser Heidi  -  Jebe van het Keysersbos -  61,200
Related Links
Eurodressage Coverage of the 2015 World Young Horse Championships
San Amour II and El Capone Win Fourth Leg of 2015 Belgian WCYH Selection Trials
First Diamond N, Forever Love, Gallarctica Biolley, El Capone Win Third Leg of 2015 Belgian WCYH Selection Trials
First Diamond N, First Lady, El Capone Win Second Leg of 2015 Belgian WCYH Selection Trials
First Diamond N, First Lady, El Capone Win First Leg of 2015 Belgian WCYH Selection Trials