2015 Bundeschampionate Qualifier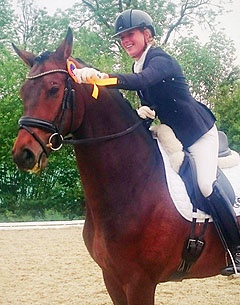 A massive field of competitors gathered at the Hanoverian regional show in Bülkau, Germany, on 29 - 31 May 2015 to contest the Bundeschampionate qualification classes for 5 and 6-year old dressage horses. The 5-year old division was split into two and Fusion OLD and Furstenhof turned out as winners. Fantago OLD bested the 6-year old field.
The 5-year old dressage horse category was split into two groups. Judged by Peter Olsson, Christoph Bulle and Heino Sommerfeld, the L-level dressage horse test featured 31 horses in total. Anja Engelbart and dark bay Oldenburg stallion Fusion OLD (by Furst Romancier x Sion) topped the leader board in group 1 with 8.5.  She kept Jan Dirk Giesselmann on the Hanoverian gelding Bellamy (by Bentley x Werther) in a distance on second place with 8.1.
In group 2 Birte Senftleben and the dark bay Hanoverian stallion Furstenhof (by Furst Grandios x Weltmeyer) produced the winning score of 8.4. Giesselmann was again second but this time on his Oldenburg gelding Santiano (by San Amour x Donnerhall) with 8.0.
Anna Sophie Fiebelkorn and the Oldenburg stallion Fantango OLD (by Fidertanz x Dream of Glory) bested the M-level class for 6-year olds with an 8.3 score. Steffen Frahm and the Hanoverian stallion Beltano (by Belissimo M x Hohenstein) were the runners-up with 8.1.
Results - 2015 Bundeschampionate Qualifier - Bulkau
5-year olds - group 1
1.Anja Engelbart - Fusion - 8.5
2. Jan Dirk Giesselmann - Bellamy - 8.1
3. Anne Kathrin Pohlmeier - Bespoke - 7.7
4. Lukas Fischer - Superior - 7.5
4. Stefanie Meyer - Die Kleine Deichliebe - 7.5
4. Eike Bewerungen - Darco von Nymphenburg - 7.5
4. Nadine Husenbeth - Sanchero - 7.5
8. Steffen Frahm - Ben Kingsley - 7.4
8. Anne Marie Kleemann - Raya - 7.4
8. Stefan Blanken - Lando - 7.4
8. Nadine Plaster - Bellmeier - 7.4
12. Lukas Fischer - Sweet Fashion - 7.3
12. Wolfhard Witte - Gandhi - 7.3
14. Matthias Klatt - Fleur Royal - 7.2
14. Stefanie Meyer - Blumenkind - 7.2
14. Michael Meyer - Sir Winston Churchill - 7.2
14. Marco Buhrig - Bonito de Belissimo - 7.2.
18. Iris Werner - Formotion - 7.1
19. Anna Marie Becker - Jocy S - 6.9
19. Jessica Andersson - Stolzenberg Mallert - 6.9
21. Kira Ripphoff - First Boy Special - 6.8
21. Annika Korte - Rosenstolz - 6.8
23. Lyn Elisa Goltz - Ruby Rhapsody - 6.3
23. Juliane Muller - Blue Ray - 6.3
Michael Meyer - Finesco - RET
Marco Buhrig - Senorita - RET
5-year olds - group 2
1.  Birte Senftleben - Furstenhof - 8.4
2. Jan Dirk Giesselmann - Santiano - 8.0
3. Manuel Bammel - Best Dream HR - 7.6
3. Gitte Hinrichs - Sidekick - 7.6
3. Anne Kathrin Pohrmeieer - Royal Rose M - 7.6
3. Thomas Szestopalow - Shamwari Debonair - 7.6
6-year olds
1. Anna Sophie Fiebelkorn - Fantango ) 8.3
2. Steffen Frahm - Beltano - 8.1.
3. Lukas Fischer - Raffinese - 8.0
4. Sascha Bohnke - Schwarzgold - 7.7
5. Sabine Oberdick - Fortuna - 7.5
6. Nadine Plaster - Setup - 7.4
7. Yvonne Reiser - Sunlight - 7.2
7. Martin Christensen - Elysee - 7.2
9. Annika Korte - Raul - 7.0
10. Sabine Buttelmann - Quickstep in Red - 6.8
11. Wenke Tewes - Shirin's Diva - 6.4
Sandra Frieling - Federer - RET
Related Link
Eurodressage Coverage of the 2015 Bundeschampionate