German Dressage News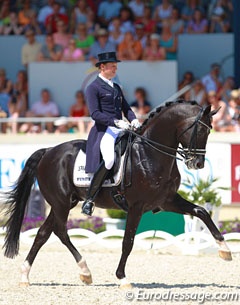 The dressage selection committee of the German Olympic Equestrian Committee has given Matthias Rath and Totilas a bye in competing at the 2015 German Championships in Balve, which are considered a mandatory trial for team selection.
From the beginning of the year, the German Equestrian Federation had flagged the German Championships and CDIO Hagen as mandatory selection trials for team nominations. All A-team riders who wish to be considered for the team have to compete there. But as always, there are more exceptions to the rules and equality in dressage sport is often not the case, especially when it comes to injury prone horses.
In 2014 Helen Langehanenberg and Damon Hill received a bye for Balve because they had already proven form at the 2014 World Cup Finals, and Totilas was a no-show as he only made his come back a week later at the 2014 CDI Kapellen. 
Totilas reinjured himself at the 2014 CDIO Aachen in July and was supposed to return to the show ring in May, but this date has been pushed back towards July.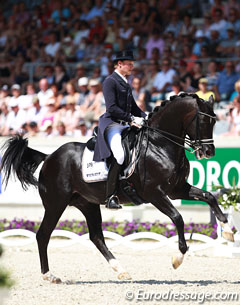 "He's not far enough yet but is on the right way," Monica Theodorescu told ST. Georg after checking upon Totilas in training at Sjef Janssen's barn in The Netherlands. "He just is our problem child and that's why the vets also have a say in this."
Theodorescu is willing to consider Totilas for the team for the 2015 European Championships in Aachen in August as he is a potential top scorer. "For me it's important that we go to the Europeans with the best riders and horses."
The organizers of the 2015 German Championships were never surprised by the absence of Totilas as he was never declared for the show from the start.
Source: St. Georg
Photos © Astrid Appels
Related Links
Will Totilas and Bella Rose Be Ready for Balve?
Balve and Hagen, German Team Selection Trials for 2015 European Championship