2015 CDN Cheratte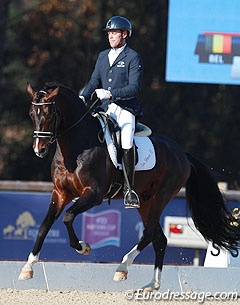 The 5-year old San Amour II and the 6-year old El Capone were the winners of the fourth leg of the 2015 Belgian selection trials for World Young Horse Championships selection. The fourth selection trial was held in Cheratte, Belgium, on 23 May 2015. Eleven 5-year olds and fourteen 6-tear old contested the qualification classes.
Belgian international Grand Prix rider Mario van Orshaegen won the 5-year old division aboard his Oldenburg stallion San Amour II (by Sandro Hit x Plaisir d'Amour). He scored 80.60 points and only edged out Amandine Prevost on Quaterdance (by Quaterback) by a fraction of a point. This pair placed second with 80.400 and fended off Katrien Verreet on the Oldenburg mare Gallartica Biolley (by Galliani Biolley x Florestan) who landed third place with 80.200.
In the 6-year old division Tom Heylen and his Dutch warmblood El Capone (by Tuschinski x Camus) continue to be unbeatable claiming their fourth consecutive victory in the trials, this time with a score of 82.800. Dominique Mohimont and the Dutch bred El Corona Texel (by Wynton x Goodtimes) were the runners-up with a few points less on 82.400. Leopold Engelen steered Jean van de Laer's Dolce (by Florencio x Welt Hit II) to a third place with 78.400.
A small class of 4-year olds also appeared in Cheratte with Dominique Mohimont taking top honours on the Dutch bred Genie (by Zhivago x Sandro Hit) with 80.400. Olivier Carlens and the SBS stallion Foxtrott du Jade (by Floriscount x Rubinstein) were the runners-up with 77.800.
Photo © Astrid Appels
Results - 2015 Belgian WCYH Selecion trial - Cheratte
4-year olds
1. Mohimont Dominique  -  Genie  -   80,400
2. Carlens Olivier   - Foxtrott Du Jade - 77,800 
3. De Winne Flore   - Basali -  77,000 
4. Verreet Katrien   - Fortalezza Biolley - 75,600
5. Martel Shawnee   -- Fürst De Niro - 73,000
6. Porignaux Justine    Glavour -  72,200 
7. Engelen David  -  Dan Valentin - 71,800 
8. Vandecappelle Ine -   Lady Kahn - 71,200
5-year olds
1. Van Orshaegen Mario -   San Amour II -  80,600
2. Prevost Amandine -   Quaterdance  - 80,400  
3. Verreet Katrien  -  Gallartica Biolley -   80,200  
4. Van Vugt Sofie  -  Lovely One - 80,000 
5. Samyn Anemone  -  Forever Love - 79,800  
6. Franckx Tom  -  showdancer  -   74,200
6. Heylen Inge -   Kalagan "h" - 74,200  
8. Vanpottalsberghe Maya  -  Berreaux  - 73,800 
9. Laevens Kevin-    Kozinsky Vd Dries  - 73,400 
10. Gils Caro -   Flashpoint  - 67,400  
11. Ploumen Flora   - Eros De Haute Melen  - 64,600
6-year olds
1. Heylen Tom  -  El Capone  - 82,800
2. Mohimont Dominique -   El Corona Texel -  82,400 
3. Engelen Leopold  -  Dolce 'N' - 78,400 
4. Appelmans Eefje -   Eldorado Pb -  77,400 
5. Franckx Tom  - evento d  - 77,200 
6. Samyn Anemone   - Fuchsberger -76,600 
7. Walravens Stephanie -   Esteban M -76,200   
8. Verreet Katrien  -  Quorum Y  - 75,400  
9. Heylen Tom -  Jar of Ballmore - 74,600  
10. Prevost Amandine  -  Riverside -  73,800 
11. Hesters Steffi  - Emporio SH   -   72,800  
12. De Keyser Heidi -   Jebe van het Keysersbos -   65,800
13. Ulrici Caroline  -  San Niro -  65,600 
14. Tanghe Melissa  -  Jolie  -  60,600
Related Links
Eurodressage Coverage of the 2015 World Young Horse Championships
First Diamond N, Forever Love, Gallartica Biolley, El Capone Win Third Leg of 2015 Belgian WCYH Selection Trials
First Diamond N, First Lady, El Capone Win Second Leg of 2015 Belgian WCYH Selection Trials
First Diamond N, First Lady, El Capone Win First Leg of 2015 Belgian WCYH Selection Trials