2015 World Championships for Young Dressage Horses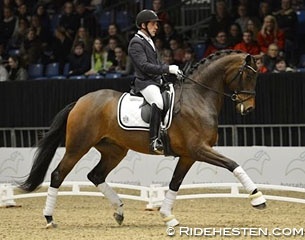 The first Danish selection trial for the 2015 World Young Horse Championships has led selectors to cut drastically in the long list of horses invited to the first training and observation session on 23 - 24 May 2015 which took place on two different locations. Twenty-six horses were invited to the first trial and only fifteen are still in the running to proceed in the selection process.
The group of 5-year olds has been reduced to nine horses, while only six 6-year olds are still in the running. The second training and observation trial for Denmark will take place on 22 June, followed by a finals on 13 and 14 July in Vilhelmsborg.
The horses still in the running are:
5-year olds
Fiontini (by Fassbinder x Romanov)  - Severo Jurado Lopez
Fiontina (by Fassbinder x Romanov)  - Andreas Helgstrand
Tørveslettens Fifty-Fifty  (by Fürstenball x Stedinger)  - Emma Ahlberg
Højgårdens Sir Chantal (by Sir Donnerhall  x Friendship) - Jan M. Christensen
First Ballerina Macohl (by Fürstenball x Schwadroneur) - Katrine Kraglund
Egebjerggaards Dutchmann (by Sandreo x Sam-Sam) - Astrid Gron
Vincent Maranello (by Zack x Future Cup)- Thomas Sigtenbjerggaard
Springborgs Acaia (by Fürst Romancier x Rubin-Royal) - Katrine Springborg
Vadestedet's Daylight (by De Noir x Akinos)  - Silje Bakken
6-year olds
Svalegårds Terra (by Temptation x Stedinger)  - Mette Svare Ehlers
Gasolin (by Doolittle x Tiberias)  - Sanne Henningsen
Litvinenko Sjælstofte (by Imperio x Pidroneur) - Anne Troensegaard
Drisdal's Co-Co Chanel  (by Temptation x Uffe Korshøjgård) - Sandra Kaergaard
Adrenalin Firfod (by Skovens Rafael x Adrenalin Firfod) - Helene Melsen
Atterupgaards Capirossi (by Caprimond x Stedinger) - Selina Solberg
Photo © Ridehesten
Related Links
Eurodressage Coverage of the 2015 World Young Horse Championships
Danish Horses in the Running for Team Selection 2015 World Young Horse Championships
First Horses Selected for Danish Long List 2015 World Young Horse Championships