2015 CDI Munich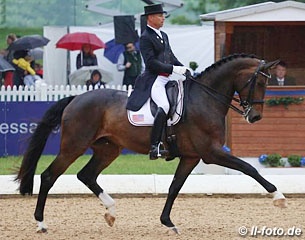 The U.S. Dressage Pan American Games European Squad produced strong results over the weekend in their first Observation Event at 2015  CDI Munich in Germany on 15 - 17 May 2015. With eight Squad combinations competing at each level of the competition, the U.S. secured wins and top ten placings against strong competition.
USA sweeps the top three in the Intermediaire I: Kim Herslow & Rosmarin first, Olivia LaGoy-Weltz & Lonoir second, and Sabine Schut-Kery & Sanceo third (USEF Archives)
Leading off for the U.S. in 1* competition was Kim Herslow and her own Rosmarin. Competing for the first time outside the U.S., the pair secured wins in both the Prix St. Georges and Intermediaire I. Winning the Prix St. Georges on a 71.158%, Herslow was followed by Sabine Schut-Kery and Alice Womble's Sanceo in second on 68.921%, Olivia LaGoy-Weltz and her own Lonoir in fourth on 68.684%, and Kasey Perry and Diane Perry's Goerklintgaard's Dublet in fifth on 68.289%.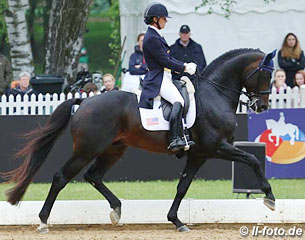 In the Intermediaire I on Friday, the U.S. swept the top three with Herslow and Rosmarin winning on a score of 72.579%, LaGoy-Weltz and Lonoir placing second with 72.368%, and Schut-Kery and Sanceo in third on 70.316%. Perry and Gorklintgaard's Dublet placed eighth on a score of 66.053%.
"It was a great experience being able to come and win both classes," said Herslow. "Reno [Rosmarin] has been in a good mood since we arrived in Germany and our training sessions with Robert [Dover] have been really helpful. The team experience has been awesome; everyone is very supportive of each other. Reno is in a new form and we are working on refining that in the show arena now."
Three Squad combinations and one individual combination contested the CDI 3*. In the Grand Prix, Steffen Peters and Four Winds Farm Inc.'s Rosamunde were second on 72.240%, Allison Brock and Claudine and Fritz Kundrun's Rosevelt were fifth on 70.560%, and Kathleen Raine and Breanna were 13th on a 66.480%.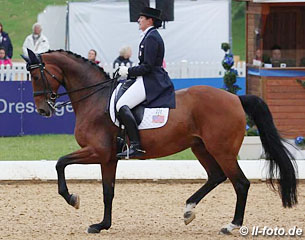 The U.S. moved all three into the top five in the Grand Prix Special with Peters and Rosamunde again in second on 70.608%, Raine and Breanna in fourth on 68.020%, and Brock and Rosevelt in fifth on 67.333%. A member of the Squad with Small Tour partner, Goerklintgaard's Dublet, Perry also rode her Big Tour mount, Trostruplund's Scarlet, to a 10th-place finish in the Grand Prix on a 67.760% and a seventh place finish in the Grand Prix Special with a score of 67.098%.
Highlighting the weekend's show was the CDI5*, Peters rode Four Winds Farm Inc.'s Legolas to a third-place finish in the Grand Prix on score of 73.620% and to an impressive second place in the Grand Prix Freestyle with 80.350%.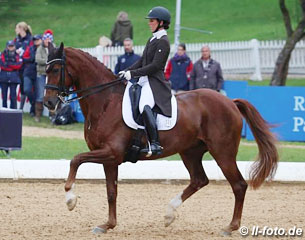 "The CDI5* Freestyle on Sunday was the highlight of the weekend for us," said Peters. "The test was Legolas' best Freestyle yet, it was very clean and we were foot perfect with music. It was extremely exciting to finish second, especially against such strong competitors. Having the whole U.S. contingent there supporting us was special; it is always great to hear your teammates cheering you on. Overall it was a great start for our European Squad and a huge success for Team USA."
The squad will continue their Observation Events with a select group of members competing in CDI5* Aachen, May 28-31, and the complete squad competing at CDI4* Achleiten, June 4-7, 2015. The Pan American Games Team will be named following the completion of the Observation Events.
Photos © LL-foto
Related Links
Scores: 2015 CDI Munich
Sprehe and Werth Take Weekend 5* Classes at 2015 CDI Munich
Sprehe and Desperados On Top at the 2015 CDI Munich
U.S. Dressage Combinations Ready for European Competition