2015 Pan American Games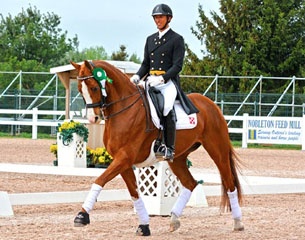 Ecuador is the first country to announce the names of the riders who have qualified to compete at the 2015 Pan American Games in Toronto, Canada, on 11 - 14 July 2015. Ecuador will be fielding two individual dressage riders after the country unlocked two slots for the Pan Ams at the 2014 South American Games.
The riders representing Ecuador at the 2015 Pan Ams will be the same as at the 2011 Pan Am delegation for Guadalajara, Mexico: Julio Mendoza and Carolina Espinosa.
Julio Mendoza lives in Maryland, U.S.A. and has been competing at the 2015 Dressage in Florida circuit in Wellington. He has been campaigning the 10-year old Oldenburg gelding Chardonnay (by Comic Hilltop x Northern Baron), owned Sheila O'Keefe and Julio Mendoza.
Carolina Espinosa lives in Ecuador and she has achieved her elegibility scores at the 2014 South American Games in Chile and the FEI Challenge at the Quito Tennis and Golf Club in Ecuador. She will be riding Amadeo, a 14-year old Argentinian warmblood gelding owned by Francisco Egas The pair has not yet been out to a CDI event in 2015.
Five dressage riders were in the running for the two individual slots to represent Ecuador at the 2015 Pan Am Games.
Related Links
Ecuadorean Team Selected for 2011 Pan American Games
Torrente to Coach Ecuadorian Team at 2013 Bolivarian Games
Palacios Strengthens Position on Mexican Pan Am Team Ranking after 2015 CDI Mexico City
American 2015 Pan Am Qualification Tour in Europe Announced
2011 Pan American Games - Table of Contents