German Dressage News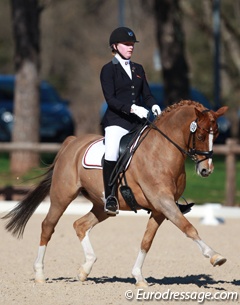 Following the 2015 Preis der Besten in Warendorf, Germany, on 8 - 10 May 2015, German pony team trainer Connie Endres has made a short list of combinations qualified to ride the two mandatory trials for German team selection for the 2015 European Pony Championships.
Twelve pony riders have been short listed for the two selection trials, which will take place at the CDI Wiesbaden on 23 - 25 May and the CDIO-PJYR Hagen on 18 - 21 June. 
The 2015 European Pony Championships will be in Malmo, Sweden on 5 - 9 August 2015.
The short listed German pony riders are:
Nadine Krause - Danilo and Cyrill WE
Liselott Marie Linsenhoff - Golden Girl
Lana Raumanns - Den Ostriks Dailan
Semmieke Rothenberger - Deinhard B and Paso Double
Julia Barbian - Der kleine König
Linda Erbe - Dujardin B
Helen Erbe - FS Charly Brown
Raphael Netz - Schierensees Don't do it
Anna Schölermann - DW's Flic-Flac
Marei Flunkert - Daddy's Daydream
Luna Laabs - Dow Jones
Katharina Ottenweß - Mondsilber
Photo © Astrid Appels
Related Links
Eurodressage Coverage of the 2015 European Pony Championships
Rothenberger and Becks Win 2015 Preis der Besten