2015 Bundeschampionate Qualifier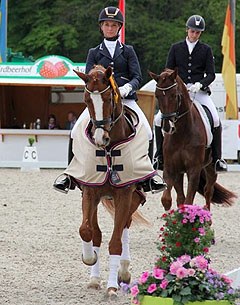 The 5-year olds Bluetooth and Dark Rose es Fangar and the 6-year old Lady Loxley M won the Bundeschampionate qualification classes held at the Holtkamper Dressage Days in Bielefeld-Holtkamp on 8 - 10 May 2015. No Less than 49 horses were entered to compete in the L and M-level dressage horse tests.
The 5-year old L-level division was split into two groups with 28 horses competing in total. Group 1 was dominated by Eva Möller on Elena Knyaginicheva's Oldenburg gelding Bluetooth. The Bordeaux x Riccione gelding, who was a price highlight at the 2014 PSI Auction, scored 8.0 to lead the group. Frederic Wandres and the Oldenburg gelding Duvetico (by Detroit x Stedinger) were second with 7.2.
In the second group of the 5-year olds Helen Langehanenberg steered the dark bay Hanoverian mare Dark Rose es Fangar to victory with an 8.3 total. The mare is bred and owned by the Eisenmann family's Es Fangar stud in Mallorca and is by Dancier x Rubin Royal.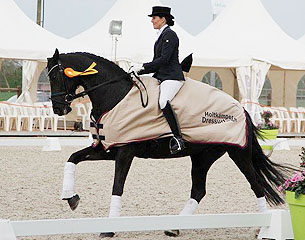 Claudia Rüscher and Tanja Ditschar's Westfalian gelding Damon's Pauly (by Damon Hill x Romantik Boy) were the runners-up with 8.0.
Carola Koppelmann and Franz-Josef Münker's Rhinelander mare Lady Loxley M (by Lord Loxley x Abanos) aced the 6-year old division with a solid 8.3 score and referred Ann Christin Wienkamp on Jakob Holtwiesche's Westfalian stallion Ray Dance (by Rockwell x Van the Man) to a second place with 8.2.
Results - 2015 Bundeschampionate Qualifier - Bielefeld
5-year olds - Group 1
1. Eva Möller - Bluetooth  (by Bordeaux x Riccione) -  8 
2. Frederic Wandres - Duvetico  (by Detroit x Stedinger) -  7.2
3. Erik Bültjer -  South Afrika  (by San Amour x De Niro) - 7.1
4. Laura Klein - Sir Olli  (by Sir Donnerhall x Florestan) - 7
4. Fritz Fleischmann - Flor de Luna (by Furst Nymphenburg x Don Crusador) - 7
4. Annika Korte - Daimler (by De Niro x Laurentio) - 7 
7. Cathryn Rippelbeck - Der Lichtblick  (by Der Designer x Floresco) - 6.8
8. Andreas Schöffner  - Assich's Ribery  (by Rock Forever x Florestan) - 6.5
Annika Korte - Fürst Larino H /(by Furst Romancier x Don Larino) - RET
Eva Möller -  For Freedom (by Floriscount x Lauries Crusador xx) - RET
5-year olds - Group 2
1. Helen Langehanenberg - Dark Rose de Fangar  (by Dancier x Rubin-Royal) - 8.3 
2. Claudia Rüscher - Damon's Pauly  (by Damon Hill x Romantik-Boy) - 8 
3. Marcus Hermes - Abegglen FH  (by Ampere x Carabas) - 7.3 
3. Petra Stroetmann - Damon's Divarouge  (by Damon Hill x Rubin-Royal) - 7.3 
5. Anja Wilimzig - Farbenspiel (by Florenciano x Dimension) - 7.2 
5. Katharina Grunert - Fashion de la Luna  (by Fineliner x Rotspon) - 7.2 
5. Marion Wiebusch - Like a Diamond (by Laureus x Lord Sinclair) - 7.2
8. Silke Ottenjann - Let it be (by Lissaro x Florestan) - 7.1 
8. Svenja Kämper-Meyer - Bien sur M (by Belissimo M x Matcho AA) - 7.1 
10. Claudia Arnold - Flanissimo  (by Flanagan x Ferragamo) -  7 
10. Jasmin Arndt - Florenza SL  (by Fidertanz x Londonderry) - 7 
12. Ella Zimmermann - Sonnenkönig (by Sunday x Dancing Dynamite) - 6.8 
12. Anja Wilimzig - Flavis  (by Flanagan x Ehrentusch) - 6.8 
14. Rebekka Rösler - Sohn der Söhne  (by Son of Cologne x Florestan) - 6.6 
14. Annika Feldhaus - Bel azur -Go  (by Insterburg x Maizauber) - 6.6 
16. Mareike Mimberg - Daiquiri (by Dancier x Rubin-Royal) - 6.5 
17. Pia Ploghaus - Holly Golightly (by Hofrat x Wie Weltmeyer) - 6.3
Marion Wiebusch - Acheron (by Ampere x Fidermark) - RET
6-year olds
1. Carola Koppelmann - Lady Loxley M  (by Lord Loxley x Abanos) - 8.3 
2. Ann-Christin Wienkamp - Ray Dance  (by Rockwell x Van the Man) - 8.2 
3. Marcus Hermes - weetheart FH (by Scolari x Hohenstein) - 8 
3. Heiko Klausing - Justify AS  (by Jazz x Inselfuerst) - 8 
5. Ann-Kristin Dornbracht - Fiesta Bonita  (by For Compliment x Rubinstein) - 7.6 
6. Anja Wilimzig - Rational (by Rock Forever I x Bormio xx) - 7.5
6. Johanna Klippert - Chipolino  (by Comte x Acord II) - 7.5
8. Franziska Beckmann - Bertolino  (by Basic x Florestan) - 7.4 
8. Sebastian Langehanenberg - Franklin  (by Furst Grandios x Saint Tropez) - 7.4 
10. Ann-Kathrin Schulte-Varendorff - Santa Maria (by San Remo x Florestan) - 7.3 
11. Annika Korte - Raul (by Rosandro x Harvard) - 7.2 
11. Achim Ostermeyer - Barclay (by Benetton Dream x Furst Piccolo) -  7.2 
13. Christiane Seelig - Bella Donna  (by Belissimo M x Weltmeyer) -  7.1 
13. Frank Mohr - Fernando (by Florestan I x Contendro) -  7.1 
13. Cathryn Rippelbeck - Fidelio  (by Farewell III x Donnerhall) - 7.1 
16. Emily-Charlotte Seibel -  Beautyful Mind (by Basic x Ad hoc) - 7 
17. Jürgen van Damme - Sherlock  (by Sorento x Attraktiv) - 6.9 
17. Lisa Marie Koch - Sweet Caroline  (by Sir Donnerhall x Lanthan) - 6.9 
17. Insa Hansen - Zaz veux  (by Zack x Rubinstein) - 6.9 
20. Lena Biehn - Simplicity B  (by Sandro Hit x Don Bedo) - 6.7 
21. Charline Wetzler - Feiner Kerl  (by Furst Piccolo x Dimension) - 6.6
Related Link
Eurodressage Coverage of the 2015 Bundeschampionate