2015 CDN Hulsterlo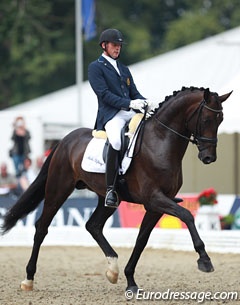 The 4-year old First Diamond N, the 5-year olds Forever Love and Gallartica Biolley and the 6-year old El Capone won the young horse classes at the third leg of the Belgian Cup of Belgium for Young Horses,  a show circuit of which the first six events serve as qualifier for Belgian team selection for the 2015 World Young Horse Championships in Verden. The third leg was held in Hulsterlo, Belgium, on Saturday 2 May 2015.
In the 5-year old division the horses had to perform the preliminary test and two winners surfaced at the top of the leader board. Anne Sophie Fiebelkorn's student Anemone Samyn steered the Hanoverian bred Forever Love (by Floriscount x Rotspon) to a winning score of 82.600 points and tied with Katrien Verreet aboard the Oldenburg bred mare Gallarctica Biolley (by Galliani Biolley x Florestan). Belgian Rob van Puijenbroek and his home bred KWPN mare Fabiola (by Sir Oldenburg x Rolex) were third with 78.600 points.
In the 6-year old class Tom Heylen and his Dutch warmblood El Capone (by Tuschinski x Camus) proved once more to be unbeatable taking his third victory in a row this season. The pair scored 83.200 in the preliminary test. Tom Franckx and the KWPN bred Evento D (by Rubiquil x Goodtimes) were the runners-up with 82.20 points, while Heylen also captured third place with Jar of Ballmore, a Belgian warmblood stallion by Gribaldi x Sunny Boy. They scored 79.20 points. 
The 4-year old division, which does not count for Verden selection of course, the winner was Leopold Engelen on Jean van Laer's German bred First Diamond N (by Furstenball x Welt Hit II). The pair won their third consecutive trophy as well, this time with an 80.60 score. Dominique Mohimont and the Dutch bred Genie (by Zhivago x Sandro Hit) were second with 79.20 points. They edged out Flore de Winne on the German bred Basali (by Belissimo M x Weltmeyer), who finished third with 73.60 points. 
Photo © Astrid Appels
Results - 2015 CDN Hulsterlo
4-year olds
1. Engelen Leopold - First Diamond "N" -   80,600 
2. Mohimont Dominique -  Genie - 79,200
3. De Winne Flore - Basali   - 73,600 
4. Engelen David - Dan Valentin - 73,200
5. Verreet Katrien - Fortalezza Biolley -  73,000 
6. Pauluis Larissa - Ghivago - 72,800
7. Carlens Olivier  - Foxtrott Du Jade - 72,600 
8. Moordtgat Anke - Dublin -  70,000
9. Porignaux Justine -   Glavour  -  69,800
10. Engelen Leopold - First Class "N"  -  69,600
11. Bervoets Denis - Gycola Begijnhoeve -  68,800
12. Martel Shawnee - Fürst De Niro -   68,600 
13. Vandecappelle Ine -Generaal - 67,200
14. Borghys Maarten  - Lafite Ter Dolen -   63,600
14. Weenen Maarten - Fahrenheit  -  63,600
16. Vreezen Lisette  - Levano -  61,000
5-year olds
1. Samyn Anemone - Forever Love - 82,600
1. Verreet Katrien - Gallartica Biolley -   82,600
3. Van Puyenbroek Rob - Fabiola  -  78,600 
4. Pauluis Larissa - Fame  - 77,600 
5. Laevens Kevin -  Kozinsky Vd Dries -  75,600 
5. Heylen Inge -  Kalagan "h"   -  75,600
7. Prevost Amandine - Quaterdance -  73,800
8. Van De Keere Frederik -  Fabe  - 73,400
9. Van Vugt Sofie- Lovely One  -  70,400 
10. D'Hoore Brecht - Robes Bisous -  70,200 
11. Verguts Anneleen - Stedifee H Z  - 69,400 
12. Van De Keere Frederik -  Florida   -  65,200 
13. Van Hoey Wim -Figo  -  64,200
14. Dewaegenaere Ona - Kasper Van De Sparrenhoef - 63,000 
15. Vanpottalsberghe Maya -  Berreaux  -  62,600  
16. De Greve Bart - Knock-out Van Rozendycke  -  59,600
6-year olds
1. Heylen Tom -  El Capone - 83,200 
2. Franckx Tom -  evento d - 82,2000
3. Heylen Tom  - Jar of Ballmore -  79,200  
4. Verreet Katrien - Quorum Y -  77,800 
5. Mohimont Dominique - El Corona Texel - 77,100 
6. Appelmans Eefje - Eldorado Pb  -  75,600 
7. Walravens Stephanie -  Esteban M  - 74,800 
8. Engelen Leopold - Dolce 'N'   -   73,200 
9. Samyn Anemone  -Fuchsberger - 71,000 
10. Prevost Amandine- Riverside  -  70,200  
11. D'Hoore Brecht -  Sicilia van de Helle - 68,700 
12. D'Hoore Brecht  - Edison H -  66,800 
13. Van De Keere Frederik - Esperance  - 66,200 
14. Vileyn Bjorn - Sammelis van het Waterhof - 59,700
Related Link
Eurodressage Coverage of the 2015 World Young Horse Championships