German Dressage News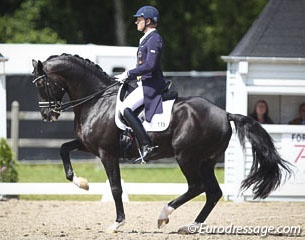 German Grand Prix rider Matthias Rath has announced that his 15-year old Dutch warmblood stallion Totilas will be making a show come back in May 2015. The stallion has been out with an injury since July after the 2014 CDIO Aachen.
In an interview with the highly popular German tabloid magazine BILD, Rath revealed that he has planned on his return to the show ring with the crowd pleasing Totilas in May.
"Totilas is in good form. At the end of May I want to begin again," he told Bild. "The 2015 European Championships in Aachen are of course our goal. Anything else would be a lie."
Rath did not disclose at which show he'll make his come back. Possible events are the CDI Munich (14 - 17 May) or the CDI Wiesbaden (22 - 25 May).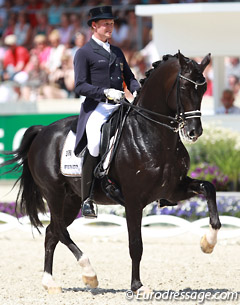 The pair made a similar May return to the show ring last year after a two year break due to injury. They made with a surprise, last minute late entry at the 2014 CDI Kapellen in May, followed by starts in Wiesbaden, Perl, and Aachen. Their 2014 show campaign unfortunately only lasted less than three months as the stallion reinjured himself and was out for German WEG team selection.
If Rath and Totilas want to be considered for German team selection they have to compete at the 2015 German Championships in Balve (11 - 14 June) and the 2015 CDIO Hagen (8 - 12 July). These are the two mandatory selection events. "This is the rule and there are no exceptions," said dressage team selector Klaus Roeser. "If Totilas is fit and competing, he'll be a strength to the team," he added.
Source: BILD
Related Links
Next Goal for Totilas, 2015 World Cup Finals in Las Vegas
Totilas Withdrawn from 2014 World Equestrian Games Participation
Rath and Totilas Snag Grand Prix Special at 2014 CDIO Aachen
Totilas Brings Out the Crowds and Magic at 2014 CDI Wiesbaden
Smooth Come Back for Rath and Totilas at 2014 CDI Kapellen
Totilas Buzz at the 2014 CDI Kapellen
Rath and Totilas to Make Show Come Back Tomorrow at 2014 CDI Kapellen