2015 World Championships for Young Dressage Horses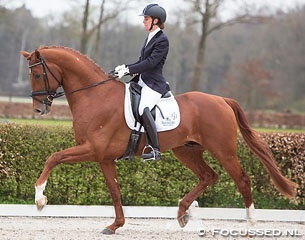 Sixteen 5-year old and twelve 6-year old young KWPN bred dressage horses have been long listed for Dutch team selection for the 2015 World Championships for Young Dressage Horses after the first Dutch WCYH observation and selection trial held at the KWPN headquarters in Ermelo, The Netherlands, on Thursday 23 April 2015.
Candidate combinations were presented under saddle in an individual test and assess by the Dutch selection committee, which consists of Wim Ernes, Arie Hamoen and Gert van den Hoorn. Normally Johan Hammingo is a committee member, instead of Hamoen, but as Hamminga has  horses in the selection process he was replaced as a judge.  Hamminga will be helping with the training of the youngsters later on in the process.
The first selection trial led to a long list of 28 horses. The second selection will be held Monday 15 June. On 4 May a Wild Card day will be held for horses who were unable to be present on Thursday for various reasons.
The long listed Dutch youngsters are:
5-year olds
Fabregaz (Bordeaux x Democraat) – Maria Brouwer
Florence Sollenburg (Vivaldi x Falco) – Britt van Egmond
Flanell (Apache x Don Schufro) – Veronique Roerink
Fanirma (Zhivago x De Niro) – Kelly van Vliet
Fidelity (Vivaldi x Darwin) – Natascha Bernoski
Five Star (Amazing Star x Jazz) – Kirsten Brouwer
Fenix (Vivaldi x Houston) – Emmelie Scholtens
Foreign Affair (Rock Forever x Scandic) – Malin Nilsson
Forty (UB 40 x Contango) – Jennifer Sekreve
First Apple (Vivaldi x T.C.N. Partout) – Jessica Buying
Ferrari Begijnhoeve (Wynton x Contango) – Anne Meulendijks
Fellini KS (Wynton x Ferro) – Marieke van der Putten
Ferrero (Rhodium x Olivi) – Jennifer Sekreve
Fanita (Vivaldi x Havidoff) – Emmelie Scholtens
Ferdeaux (Bordeaux x Ferro) – Kirsten Brouwer
Fallatijn (Vivaldi – Cabochon) – Theo Hanzon
6-year olds:
Euripides (Jazz x Riverman) – Lotje Schoots
El Capone (UB 40 x OO Seven) – Marieke van der Putten
Enrico STH (San Remo x Jazz) – Yessin Rahmouni
Estoril (Zhivago x Gribaldi) – Emmelie Scholtens
Ebony (Painted Black x Jazz) – Vai Bruntink
Espérance (Wynton x Gabor) – Cindy van Vugt
EOS-Utopia (Ampère x Negro) – Bart Veeze
Equirelle W (Florett As x Donnerhall) – Kyra Klinkers
Excalibur (Furst Romancier x Krack C) – Justine Mudde
Edmar D (Jazz x Donnerhall) – Minke van der Linden
Endyrava (Lord Leatherdale x Monaco) Aniek de Laat
Evento D (Rubiquil x Goodtimes) – Tom Franckx
Photo © Focussed.nl
Related Links
Dutch Horses Selected for 2014 World Young Horse Championships
Estoril Wins 5-Year Old Consolation Final at 2014 World Young Horse Championships