2015 CDN St. Truiden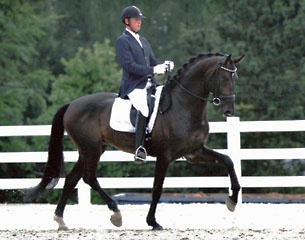 The 4-year old First Diamond N, the 5-year old First Lady and the 6-year old El Capone were the winners of the young horse classes at the second leg of the 2015 Belgian selection trials for the World Young Horse Championships. The second qualifier was held at the Moermans family's Stable Gravenhof in St. Truiden on Saturday 11 April 2015.
The Cup of Belgium young horse qualifier and WCYH selection trial produced the same winners as at the first leg, giving them to strengthen their ranking for the finals.
In the 5-year old division Julie Dossin and her Dutch warmblood mare First Lady (by Sir Donnerhall I x Johnson) aced the class with an 82.60% earning test. The Dutch born Rob van Puyenbroek, who recently switched to Belgian nationality after having lived in Belgium his entire life, was the runner up aboard Fabiola (by Sir Oldenburg x Rolex). He scored 81.40 and edged out Larissa Pauluis on the Dutch bred Fame (by Bordeaux x Rhodium) with 78.60%.
In the 6-year old division routiniers Tom Heylen and the Dutch bred El Capone (by Tuschinski x Camus) were unbeatable. They scored 82.40% to win the class. Tom Franckx and Evento D (by Rubiquil x Goodtimes) were the runners-up with 80.60% and Stephanie Walravens completed the top three after earning 79.00% on the Dutch bred Esteban M (by Sandro Hit x Jazz).
The St. Truiden young horse qualifier also featured a 4-year old category for which eight horses showed up. Leopold Engelen and Jean van Laer's German bred First Diamond N (by Furstenball x Welt Hit II) topped the leader board with 79.60% referring Katrien Verreet on the Oldenburg mare Fortalezza Biolley (by Furst Romancier x Codex) to a second place with 72.40%.
Results - 2015 Belgian WCYH Selection Trial - St. Truiden
4-year olds
1. Engelen  Leopold - First Diamond N - 79,60%
2. Verreet Katrien -  Fortalezza Biolley - 72,40%
3. Engelen Leopold -  First Class N - 71,20%
4. Carlens Olivier - Foxtrott Du Jade -  70,20%
5. Bervoets Denis - Gycola Begijnhoeve -  64,80%
6. Decoeur Georges  - Romulus  -   61,80%
7. Lauwens  Eva  - Footloose vh Bloemenhof -   60,40%
8. Claeys  Manon - Focaccio Vh Bloemenhof -  58,20%
Pauluis  Larissa - Ghivago  - DNS
Taymans Corine - Galando - DNS
Meisch Linda- Eterna  - DNS
5-year olds
1. Dossin Julie  -  First lady - 82,60%
2. Van Puyenbroek Rob - Fabiola  -  81,40
3. Pauluis  Larissa - Fame - 78,60%
4. Verreet  Katrien - Gallartica Biolley - 78,40%
5. Samyn  Anemone - Forever Love  - 76,00%
6. Van Orshaegen  Mario -  San Amour II - 75,40%
7. Laevens  Kevin -  Kozinsky Vd Dries - 75,00%
8. Heylen  Inge -  Kalagan h - 72,00%
9. Prevost  Amandine - Quaterdance - 70,80%
10. Ghekiere  Lore - Kobalt -69,40%
10. Franckx  Tom - showdancer - 69,40%
12. Verguts Anneleen - Stedifee H Z -  68,00%
13. De Greve  Bart - Knock-out Van Rozendycke -  65,20%
14. Dewaegenaere  Ona - Kasper Van De Sparrenhoef -  63,40%
15. De Rechter  Daan - Qc Fantastic Vino - 62,80%
16. Van Hoey  Wim - Figo  - 62,40%
17. Vanpottalsberghe   Maya - Berreaux  -  61,40%
18. Verhulst Thais -  QC Filibert -  60,60%
19. Ghekiere  Lore - Kingston Hill - 60,20%
20. Peeters  Jennifer - Flair - 55,40%
6-year olds
1. Heylen Tom - El Capone -  82,40%
2. Franckx  Tom - evento D - 80,60%
3. Walravens  Stephanie -  Esteban M - 79,00%
3. Engelen Leopold - Dolce 'N' -  79,00%
5. Mohimont  Dominique -   El Corona Texel - 77,20%
6. Vileyn Bjorn - Sammelis van het Waterhof - 75,80%
7. De Keyser Heidi -  Jebe van het Keysersbos - 74,80%
8. Appelmans Eefje -  Eldorado Pb - 74,20%
9. Heylen  Tom -  Jar of Ballmore - 73,40%
10. Verreet Katrien -  Quorum Y - 72,60%
11. Schuurmans Cindy -  Sambuca Tategoi - 70,60%
12. Pauluis  Larissa  - Extasy -  69,80%
13. Vermeire  Pieter -  Ewald - 66,20%
13. Hesters Steffi - Emporio SH - 66,20%
15. Tonnaer Jacqueline- Evita - 64,00%
16. Tanghe Melissa  - Jolie - 63,20%
16. Prevost Amandine -  Riverside -  63,20%
18. Ulrici Caroline - San Niro   -  61,20%
Dorpmans Claudia - Dancing Diamond - DNS
Van Orshaegen Mario - San doniro - DNS
Related Link
First Diamond N, First Lady, El Capone Win First Leg of 2015 Belgian WCYH Selection Trials