2015 World Cup Finals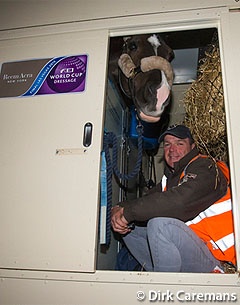 The excitement in the air was palpable the morning of 11 April 2015 as 40 of the world's best dressage and jumping horses coming from Europe, landed safely at McCarran International Airport in Las Vegas to compete at the 2015 World Cup Dressage Final held April 15-19 at the Thomas & Mack Center in Las Vegas.
The 'celebrity passenger list' included defending World Cup Dressage champion Valegro, the ride of Great Britain's Charlotte Dujardin, and defending World Cup™ Jumping champion Cornet d'Amour, the mount of Germany's Daniel Deusser.
The top equine athletes, representing 17 countries and with an estimated worth of over $150 million dollars, departed Schiphol Airport in The Netherlands at 4:25 AM (CEST) aboard Qatar Airways 777-300 ERF chartered flight. It was first-class treatment all the way, with each horse having a generous "stall and a half" space for the long trip. They were looked after by a team of 10 grooms, and under the supervision of world-famous Dutch veterinarian Jan-Hein Swagemakers, who also works with the German Jumping team. A total of 26 jumping horses and 14 dressage horses, including 13 stallions, 18 geldings and 9 mares made up the passenger list for the 5,333 mile (8,564 km) journey to Las Vegas, which took 10 hours and 8 minutes. The flight touched down at approximately 7:30 AM (PT) in Las Vegas.
"The flight was good," said Swagemakers. "No horses misbehaved or got sick during the flight. The trip went well and everything went according to plan. The horses all look great."
The transportation of the valuable cargo was organized and handled expertly by the Dutta Corporation. Tim Dutta, Chairman and CEO of the Dutta Corporation, was hands-on during the flight disembarkment process and subsequent transfer of the horses onto the gleaming silver trailers which took them to the quarantine facility just outside the Thomas & Mack Center. All went extremely smooth like a well-oiled machine.
"Luxury wise, this is the 'Cadillac' of horse transport, said Tim Dutta about the Qatar 777 jet which is only three months old.  "The plane is amazing. The horses flew in brand new jet stalls, so they are getting the best of the best that money can buy. All the horses flew very well and were comfortable."
Reigning FEI World Cup Dressage champion Valegro and groom Alan Davies (left) shared travel accommodations with the stallion Painted Black
"I think he travelled better than I did!" said Alan with a laugh. "It was a long trip but Valegro was amazing as always. He eats and drinks, and does everything a groom could want. He's such a star. He just copes with everything."
The horses will now have two days of quarantine, allowing the horses to rest and recover from their long trip.
Photo © Dirk Caremans
Related Link
Eurodressage Coverage of the 2015 World Cup Finals