2015 CDN Tultepec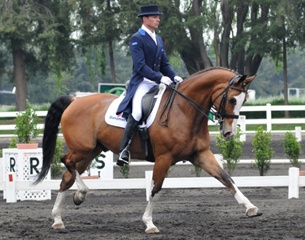 The Mexican Equestrian Federation has begun its 2015 Pan American Selection trials at a series of specially hosted qualification events in the country. The first trial was held at Rancho Nodin in Tultepec, Mexico on 21 - 22 March 2015 and Enrique Palacios became the winner of the event.
With only few CDI's hosted in Mexico throughout the year, the federation has to rely on specially staged qualifiers for team selection for the 2015 Pan American Games which will take place in Toronto, Canada in August.
A Mexican rule states that the gold medallist of the 2014 Central American and Caribbean Games is automatically qualified on the Mexican Pan Am team. Bernadette Pujals and Aurora El Camino won team gold, kur bronze and overall gold at the 2014 CAC Games. 
Bernadette was present in Tultepec and contested the Prix St Georges on day one, scoring 69.474% to finish second, but chose not to ride on day two in the Intermediaire I citing personal health probelsm with a pulled muscle as reason for withdrawal.
At the first Pan Am selection trial at Rancho Nodin, which was judged by Janine Rohr and Lilo Fore, it was Enrique Palacios who took centre stage aboard his new ride, Lourdes Ariza's Danish warmblood NOH's Wizard, which was previously competed by Antonio Rivera.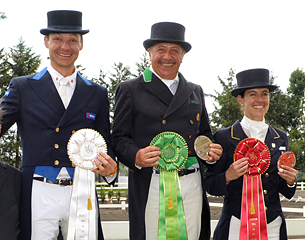 Palacios and Wizard scored a winning 69.671% in the Prix St Georges and placed second with 69.211% in the Intermediaire I. His overall mark for the weekend ranked him the highest.
Jose Luis Padilla and his routinier, 18-year old Donnersberg (by Don Primero x Cavalier) were second overall with a 66.776% in the Prix St Georges and 69.474% in the Inter I.
Mariana Quintana brought two horses to the show, Benzema and Guapo, and finished third with the 12-year old Hanoverian Benzema (by Baroncelli).
The next Mexican Pan Am selection trial with be at the CDI Mexico City on 25 - 26 April 2015, hosted at the CEAR military compound (Centro Ecuestre de Alto Rendimiento)
Results - 2015 Mexican Pan Am Selection Trial - Rancho Nodin
1. Enrique Palacios - Wizard - 69.671 - 69.211
2. Jose Luis Padilla - Donnersberg - 66.776 - 69.474
3. Mariana Quintana - Benzema - 67.829 - 66.974
4. Mariana Quintana - Guapo - 67.961 - 66.316
5. Edith Vega - French Affair - 66.382 - 67.171
6. Lorena Morales - Tauro - 65.00 - 65.592
7. Antonio Rivera - Leviton ARB - 66.053 - 64.408
8. Bernadette Pujals - Aurora el Camino - 69.474
9. Omar Zayrik - Presuntuoso - 61.053 - 64.474
Photos © Eugenia de Larrea
Related Links
Marco Bernal Makes Experience Count and Grabs Kur Gold at 2014 Central American Games
Mexico Wins Team Gold at 2014 Central American and Caribbean Games
Pujals and Rivera Score at 2014 CDI Mexico City
NOH's Wizard Sold to Mexico