2015 CDN Jeneffe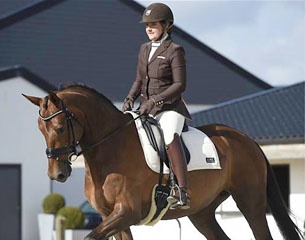 The 4-year old First Diamond N, the 5-year old First Lady, and the 6-year old El Capone were the winners of the FEI young horse classes at the national show in Jeneffe on Saturday 28 March 2015, where the 2015 Belgian Young Dressage Horse show circuit as well as the Belgian selection trials for the 2015 World Young Horse Championships in Verden kicked off.
Six shows have been flagmarked as Belgian WCYH selection trials: Jeneffe, Sint-Truiden (11 April), Hulsterlo (2 May), Cheratte (23 May), Schilde (30 May) and Massenhoven (13 June). The four best results achieved at these trials count for the WCYH ranking and the top 10 highest ranked horses will be shortlisted for Verden. A "finals" will be held at the CDN Overijse where this top 10 is obliged to compete. The ground jury at the finals in Overijse will consist of two panels of two official judges and a panel of two experts, appointed by the Belgian Dressage Committee. They will decide on the final ranking of the horses in Overijse. The top four ranked horses in the 5 and 6-year old division will be nominated for Verden.
In the 5-year old division Julie Dossin aced the preliminary test aboard First Lady, a Dutch bred mare by Sir Donnerhall I x Johnson. The pair scored 82.400 points and edged out Katrien Verreet on the chestnut Oldenburg mare Gallartica Biolley (by Galliani Biolley x Florestan) who finished second on 81.200. Amandine Prevost and the licensed Quaterdance (by Quaterback x Expose) were third with 80.200
In the 6-year old division Verden veteran Tom Heylen and his Dutch warmblood El Capone (by Tuschinski x Camus) ) topped the leader board with a whopping 87.00 points, ahead of another experienced duo, Tom Franckx on Evento D (by Rubiquil x Goodtimes) with 80.20. Pieter Vermeire and the Dutch bred Ewald (by Johnson x Rex Magna xx) were the third place getters with 79.800.
The Cup of Belgium for young horses also features a 4-year old division in which Leopold Engelen and Jean van Laer's German bred First Diamond N (by Furstenball x Welt Hit II) led a field of 8 combinations in total. Engelen was the only rider able to score above 80 points and earned the trophy with 83.60.
Results
4-year olds
1. Engelen Leopold - First Diamond "N" -  83,600
2. Pauluis Larissa - First Step Ghivago  - 75,200 
3. Engelen Leopold - First Class "n"  - 74,800  
4. Verreet Katrien -  Fortalezza Biolley - 74,600
5. De Winne Flore -  Basali - 71,800  
5. Martel Shawnee - Fürst De Niro  - 71,800
7. Borghys Maarten -  Lafite Ter Dolen -  70,400
8. Taymans Corine - Galando -  54,000
5-year olds
1. Dossin Julie - First lady  - 82,400 
2. Verreet Katrien - Gallartica Biolley -  81,200
3. Prevost Amandine - Quaterdance  - 80,200 
4. Van Orshaegen Mario - San Amour II   -  75,600 
5. Pauluis Larissa - First Step Fame -   75,400
6. Heylen Inge -  Kalagan "h" -75,200
7. Franckx Tom  - showdancer -  72,400
8. Samyn Anemone  - Forever Love  - 70,800
9. Swagemakers Veronique -  Sixth Sense  - 70,400
10. Ghekiere Lore -  Kobalt  -  70,200
11. Vanpottalsberghe Maya -  Berreaux  - 69,800  
12. Ghekiere Lore - Kingston Hill  -  64,000 
13. Van Hoey Wim -  Figo  -  63,400
14. De Greve Bart -  Knock-out Van Rozendycke  - 60,800   
6-year olds
1. Heylen Tom -  El Capone  -   87,000 
2. Franckx Tom - evento D - 80,200 
3. Vermeire Pieter - Ewald - 79,800
4. Heylen Tom - Jar of Ballmore -  78,800 
5. Engelen Leopold -  Dolce 'N'  -  74,800 
6. Van Orshaegen Mario  - San doniro -  74,600 
6. Van De Keere Frederik -  Esperance -  74,600
8. Hesters Steffi -  Emporio SH -   74,200  
9. Appelmans Eefje - Eldorado Pb -73,400 
10. Verreet Katrien - Quorum Y  -   72,800
11. Tonnaer Jacqueline  -  Evita - 72,200
12. Cool Isabel -  Enjoy Me -  71,800 
13. Vileyn Bjorn  - Sammelis van het Waterhof   -   71,600
14. Graindorge Jean  - Exel -  70,200
15. Prevost Amandine  - Riverside - 69,600 
16. Bosman Kara -  Don Johnny -  69,200   
16. De Keyser Heidi - Jebe van het Keysersbos  -  69,200   
18. Ducos Guillaume  - Jerrez H  -  68,800
19. Dorpmans Claudia -  Dancing Diamond -  62,800
Related Links
Quaterdance, El Capone, Double Dutch Win 2014 Belgian Young Horse Championships
Belgian Horses Selected for 2014 World Championships for Young Dressage Horses