2015 Van Olst Sales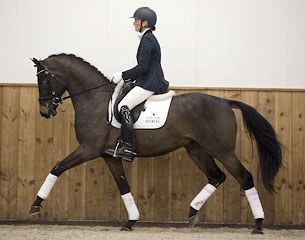 Renowned Dutch horse breeder and stallion owner Gert-Jan van Olst and his wife Anne, a Danish Olympic team rider, are offering a lovely collection of talented and highly promising home bred or reared youngsters up for auction at the 2015 Van Olst Sales on Friday 3 April 2015.
The 2015 Van Olst Sales offers a collection of 25 stricly selected young, talented, mainly 3-year olds which have recently been saddle broken. These blooming youngsters are still in full development and improving each day with more training and under saddle experience. All horses in the collection are either home bred or reared at Van Olst Horses in Den Hout, The Netherlands.
Van Olst prides itself in having a very high standard when it comes to breeding and rearing dressage stock. The Van Olst Sales collection boasts young prospects which have been hand picked based on their talent, gaits, health and character.
This is a very unique opportunity to buy a young dressage star who has been given the best start in life by being professionally managed from birth to being saddle broken.
The beautiful Van Olst Sales' collection includes horses aged 3 to 5 with the majority being green 3-year olds who have just started their career under saddle.
Highlights in the collection:
Catalog nr 3: Horatio van de Fuik
The 3-year old bay gelding Horatio van de Fulk is by Chippendale out of a Sir Sinclair x Pion dam. This youngster is saddle broken and is easy to ride. He has three exceptional basic gaits with much expression and self carriage.
The 3-year old bay gelding Haeden is by Chippendale out of a Haarlem x Landadel dam. He is a top talent in the making. Haeden has rhythm, swing, power and elasticity and a great ability to collect. He is a horse with everything in store for the future
This 3-year old dark bay gelding is by Lord Leatherdale out of a Goodtimes x Loutano dam. Heer Grandia is a true gentleman. He is exquisitely bred and is a dressage horse with class. He is a dream to ride, especially by a rider with feeling. His three excellent basic gaits and great looks make him the complete package.
Catalog nr 11: Heavy Leatherdale
The 3-year old bay gelding Heavy Leatherdale is by Lord Leatherdale x Negro x Sadenio. This power horse has a pedigree to die for. He has super basic gaits, is very fine to ride and shows amazing willingness to work. He is a full brother to the NRPS licensed and KWPN approved Chapter Leatherdale.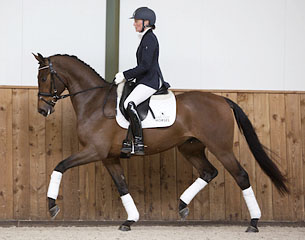 Time Schedule
Horses can be viewed on appointment on Thursday 26 March (13h-17h) and on Friday 27 March (13h-17h).
The first presentation is on Wednesday evening 1 April at 19h30
The second presentation is right before the auction on Friday 3 April 2015 at 16h00.
The 2015 Van Olst Sales auction starts Friday 3 April 2015 at 19h30.
View the complete collection at: www.vanolsthorses.com/veilingpaarden