2015 CDI Wellington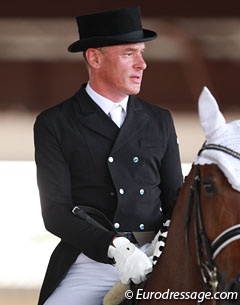 German Grand Prix rider Michael Klimke is back in the spotlight after a ten year break for high profile competions. While he was never absent from the saddle, the professional lawyer is now ready for the next step in his dressage career and he has begun a new chapter by competing four high quality dressage horses at the 2015 Dressage in Florida show circuit in Wellington, FL, USA.
Ready for Change
The 45-year old Munster based Klimke placed second at the 1990 World Cup Finals and was German Male Dressage Champion in 2000. That same year he came close to capturing a spot on the German Olympic team. The past ten years though, he has been concentrating on his thriving law firm, even though he continued seriously training horses. His competition career, however, was mainly limited to national level shows.
More recently an important change has taken place in Michael's life and the experienced rider is ready for a new chapter. Klimke admitted he has rekindled his passion for top level competition sport and his appetite for success has been whetted by a string of international calibre dressage horses he believes can make the big time.
"After some years of concentrating more on my law firm, I now have the quality horses again to compete successfully. I love to try how far I can come in the sport," Klimke told Eurodressage. "I'm still feeling competitive and I love to work hard and see where it will get me."
Jumping the Puddle

The first step for the relaunch of his CDI competition career has been travelling to Florida for the 2015 Global Dressage Festival. This phase has has been a major triumph as well as a major educational experience.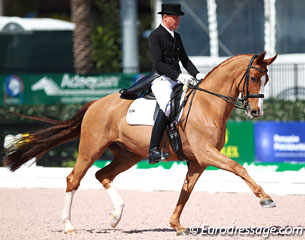 "The decision to come to Florida was an easy one, as I was invited by Leslie and John Malone, the owners of Harmony Sporthorses," Klimke explained.
Michael has been training several Harmony horses at his yard in Germany since 2005. The big bright bay Holsteiner Harmony's Calinus (by Calido x Coriall) was the first Harmony horse he presented in the big tour in Germany with starts at the 2009 and 2010 CDI Oldenburg and in 2011 at the CDI's in Hagen and Lingen. The connection with the horse loving family was established through Scott Hassler who has been Michael's friend for the past 25 years. In Florida Michael has been working very closely with Scott to improve his riding and further the training of his horses.
"Scott is one of the few horsemen that put the horse at the centre and not himself," said Michael full of praise. "He never wants to be in the middle, but when I train with him he does stand at X in the arena all the time," he added jokingly. "I have been training on my own for a long time and Scott has now really helped me to get back on track. His training philosophy is identical to mine with a focus on the classical scale of training. Without Scott I would not have made such a good development with my horses here in Florida. Besides my home coach Monica Theodurescu, Scott is a trainer that inspires me."
With his career shift sprouting, Michael is not worried that his law firm might move to the back burner.
"I have two partners in the office and they are my friends, so it works out well," he stated. "Equine Law is a global affair and we often deal with insurance cases and have many clients from the USA, so going to Florida for a 3-month period is actually a win-win situation."
Success in Wellington
With the invitation of Harmony Sporthorses in hand, Michael flew four horses to Florida for this new adventure: the 9-year old Hanoverian Harmony's Depardieu (by Don Frederico x Weltmeyer), the 8-year old Westfalian Djamba Djokiba (by Damon Hill x Wessex), the 9-year old Westfalian Frascati (by First Grade x Limes) and the 10-year old Hanoverian Fineliner (by Florencio x Regazzoni).  All four have been competed in the international small tour classes in Wellington in January and February, while Fineliner has made the transition to Grand Prix level in the national classes this month.
Fineliner won the Prix St Georges and Intermediaire I on the first week of competition in Wellington with solid seventy percentage marks, while the striking chestnut Djamba Djokiba has certainly made an impression by finishing in the top 10 five times the past two months.
"Harmony's Depardieu and Djamba Djokiba are top horses with all the quality for Grand Prix," Michael stated. "Fineliner has been winning the Small Tour at the first CDI and has now made his Intermediaire II debut with 71.7%. Frascati is also on his way to Grand Prix, so we'll have to see how far they will all come. You have to keep in mind that good Grand Prix horses are not born, but made by training."
The 2015 Global Dressage Festival has seen a major increase in entries at small tour level. Never before have the classes been so big with often over 50 riders competing in the Prix St Georges. This has forced the organizers to split the class over two days.
"The level here is high. A lot of countries are represented and there are quality combinations in the small and big tour," said Michael. "The conditions here are very good for the horses and riders; the footing is excellent, the stabling is good, and the show grounds are wonderful. Sometimes you would wish for less rule-imposing and a more easy-going attitude."
What the Future Holds
At the end of March Michael will take his horses back home to Germany to campaign in Europe in the spring and summer. His first European show will be the prestigious CDI Hagen "Horses and Dreams" at Hof Kasselmann, a stone's throw away from his stable. Klimke explained that his main plan will be taking his horses up to Grand Prix level and the best way to do so in a competition is by showing them in the German "Louisdor Cup", the Developing Grand Prix horse show circuit open to riders of all nations.
Klimke, who is the son of one of Germany's all-time best dressage riders Dr. Reiner Klimke, is also a strong advocate for classical dressage training and has recently spoken out against the current judging system and in favour of the changes that have to take place for the sport to develop in a positive way.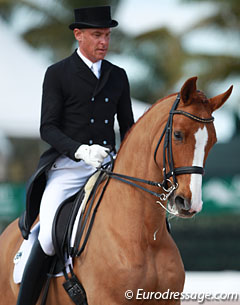 "The current judging situation is just too close to my heart not speak out about it," Michael confessed. "The differences in percentages and placings here in Florida are as extreme as in Europe, even when the European judges are on the panel. These huge differences are unacceptable and cannot be excused by the different positions around the arena. We have clear FEI rules, but they forget to follow them in a strict and consequent way."
In a guest column on Eurodressage, Klimke also addressed the FEI's need to popularize the sport by shortening the Grand Prix and removing movements which test the harmony and submission of the horse. Michael regrets this proposed adjustment and has suggested several other changes to improve the system. However he has received quite some opposition to his views, even from FEI judge general Stephen Clarke.
"I agree that scratching the highest and lowest score is not a permanent solution, but we need to a system to reward good judging and correct bad judging," he added bodly. "Beside a yellow card system for judges who make too many faux-pas, the high-low scratch could be a way to educate them. I stand for the traditional training scale and look for the sport to develop, but the judges have to score marks according to the descriptions in the FEI judges handbook."
For more information on Michael Klimke, visit www.michael-Klimke.de and www.kanzlei-Klimke.de
Related Links
Michael Klimke: Shorten the Grand Prix Test, Endanger the Sport
Stephen Clarke: Moving Away from Identical Score Obsession
Michael Klimke Presentation of Brightwells Dressage Auction Horses on 4 December 2014
Michael Klimke's White Foot Sold to Yoshitaka Serimachi