2015 CDI Hastings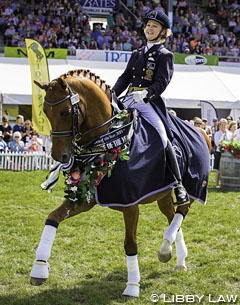 Julie Brougham has three times finished third in the New Zealand Dressage Horse of the Year title class, but on Sunday 22 March 2015 she and her stunning imported chestnut Vom Feinsten changed all that at the 2015 CDI Hastings in New Zealand.  The Palmerston North based rider also created history today scoring 76% in their musical freestyle class – breaking the Mary Hanna's Australasian record by just 0.07%.
Last year Brougham and Vom Feinsten were third in the title class, and Brougham says she reckons she may well hold the record for reserve titles. But on Sunday they were nearly 5% ahead of the second-placed Penny Castle (Palmerston North) on Magnus Spero in the CDI3* Grand Prix Freestyle.
"To win today is indescribable. It is just such a thrill. I really believe in the horse and his brilliance, but you need to put the package together. He has been foot perfect over the past two days."
The opening day was very challenging, but Brougham says changes set everything back on track and they jumped 7% in marks between tests.
But they missed by a whisker in cracking the magical 70% mark in the Grand Prix Special, scoring 69.941%.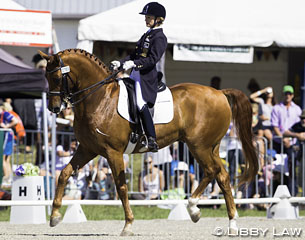 "A lot of people thought I was unlucky not to crack it yesterday. Judges don't like tension and Steiny (Vom Feisten) can be hot and tense," she said. "I don't feel I could have done much better today."
The horse had been relaxed and did many of his movements perfectly. Eleven-year-old Vom Feinsten, which translates to mean 'the finest', was gelded at five, but still thinks he is a stallion.
"He is a bit hard to handle on the ground," she says. "But he is also a little horse with a massive heart. I have found my next super star."
Brougham sold her previous Grand Prix horse JK Supersonic to buy Vom Feinsten back in 2009 after seeing him at Ton de Ridder's stable in Aachen.
She had high praise for fellow top competitors Vanessa Way (Taranaki) and Penny Castle (Ashhurst), who earlier in the show did get past the 70% mark and in doing so scooped up an extra $9000 bonus thanks to an incentive by Hawke's Bay's Beth Bielski. The three women recently trained with world, Olympic and European champion Charlotte Dujardin.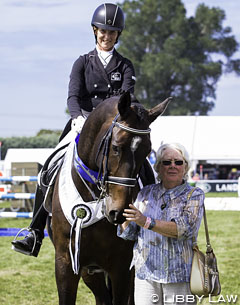 "The key is having someone come in who has such a good eye to say what is right, what is wrong and what you need to do to get a 10. We put that together fairly quickly."
And she needed her fellow competitors.
"You need someone there to push you," says Brougham. "Vanessa and Penny are great competitors. Being in New Zealand, we need to pull together. If we do that as a group, we are strong."
The marks achieved at HOY were "wonderful" for dressage in New Zealand.
"In the past there has been the feeling our riders and horses have not been deserving of 70% plus marks . . . now hopefully we have opened the doors to give the judges the confidence to give us those marks."
Next month Brougham and Castle head to Australia to compete in the Sydney CDI and train with top coach Brett Parbery. It is the first time Brougham will compete there and she is looking forward to it.
"Our results here are a huge confidence-builder as we head to Sydney."
by Diana Dobsen - Photo © Libby Law
Related Links
Scores 2015 CDI Hastings
Historic Grand Prix Score for Penny Castle at 2015 CDI Hastings