2015 CDI Hastings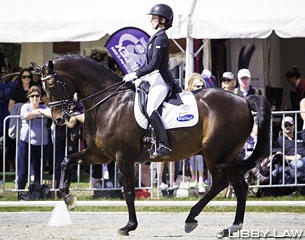 New Zealand Grand Prix rider Penny Castle created history on Friday 20 March 2014 at the Horse of the Year Show CDI Hastings as the first New Zealand combination to crack 70% at a CDI in the grand prix. Riding the stunning Magnus Spero, Castle scored 70.02%, taking the class ahead of Vanessa Way on NRM Arawn with 67.18% and Jeremy Janjic with the Friesian  Django of Cacharel third on 66.3%.
It was an emotional victory for Castle, the performance coach for New Zealand Eventing, who credited time training with world and European
champion Charlotte Dujardin earlier this year.
"She has brought another whole level of training to us, and lifted our team culture to top level," says Castle, who is in her fourth year with the horse, but in their first season at Grand Prix. "She has improved our training and the way we train. I am crediting that time with her for this mark."
Castle and Karlos – as Magnus is known at home – have been knocking on the door of 70% for a while. Last year the horse was level 8 champion, and the year before took out the level 7 title. "He is starting to look beautiful," she said of the 10-year-old, who also won the level 9 crown at the recent national championships.
In the CDI Hastings Grand Prix Castle felt she had nailed the test, but wandered back to the stable and was unsaddling when told of her mark.
"It is a goal I have had for years. It is definitely your goal when you go grand prix." Castle said it took four years to get the Grand Prix level, and another three to four to be "great" at that top level.
Over the years she has had many well-performed Grand Prix horses, but this is the first time she has won the class at HOY. Castle fell in love with Karlos the moment she sat on him. She'd just sold her previous grand prix horse Gym Star One to Australia. Now in her fourth year with Karlos, the combination continue to get better and better.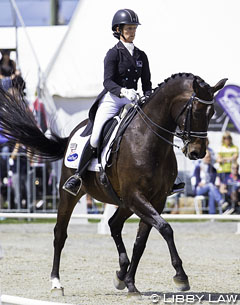 Karlos has a rather interesting relationship with the house cat Gus at  home. "He is naughty and cheeky, and rather like a stallion to handle, but Gus is also bossy and likes to remind him just who is boss!"
Tomorrow Castle will line up in the Grand Prix Sepcial – her favoured event. If no one else cracks that all-important 70%, she will pick up a $9000 bonus courtesy of Beth Bielski's 70% Club which was introduced three years ago as an incentive for New Zealand riders. If another rider makes 70%, the two will share the spoils.
"Today is our first qualifying score towards Rio – I need four in all. We can get another tomorrow in the Grand Prix Special, and we both like that test more . . . there is way more passage in it and that suits him better."
However, the combination have only done the test once before. Castle will head to the Sydney CDI in May with Karlos and fellow rider  Julie Brougham (Manawatu) with Vom Feinsten, where she will have two more shots at notching Rio qualifying scores.
"The whole journey to Rio is just massive," she says. "Talk about pressure . . . it in immense and just unbelievable. I love it! It will  be all about getting back in the zone tomorrow."
Dressage New Zealand sport manager Wendy Hamerton said the score would give Castle valuable world-ranking points towards Rio should New Zealand qualify as a nation. "This is an historic day for New Zealand dressage," said Hamerton. "We are starting to be more seriously competitive on the intentional stage. Rhis is what our riders have been striving for. It is about the score that will get you into the second round of the Olympic Games  and is what the New Zealand Olympic Committee is aiming for."
A lot of work had been going on behind the scenes to raise the standard of New Zealand dressage. "Overall the standard has lifted right through the grades. This is the highest Grand Prix standard we have ever seen at National Champs and HOY."
Having Australian combination Janjic and Django at the show was also a  bonus. "It is just fantastic to have him here. It is a really good benchmark for us."
Hamerton said it was also exciting to see some "beautiful" purpose-bred New Zealand horses coming through at all levels. "It is a very exciting time."
Riders competing in tomorrow's Grand Prix Special and Sunday's freestyle had to have achieved 60% or more today to go through.
by Diane Dobsen - Photo © Libby Law
Related Links
Scores 2015 CDI Hastings
Penny Castle Reigns Supreme at 2015 New Zealand Dressage Championships