2015 CDI-W 's Hertogenbosch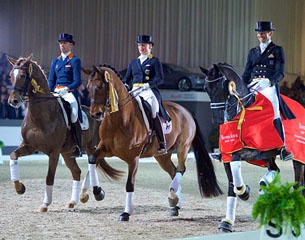 The Netherlands' Edward Gal and Undercover clinched victory at the last qualifying leg of the World Cup Dressage 2014/2015 Western European League on home ground at 's-Hertogenbosch on Saturday 14 March 2015. Always favourites to take maximum points after their convincing win in the Grand Prix, the pair didn't disappoint this afternoon when producing some spectacular work when third-last into the arena.
But Gal's masterful riding skills were fully tested by moments of tension from the 14-year-old gelding with which he finished third at the World Cup Final in Lyon, France last season.
Runner-up today was Germany's Isabell Werth who nailed a great performance with Don Johnson FRH, and it was an excellent result for the host nation contingent as Hans Peter Minderhoud and Flirt lined up third ahead of fellow-Dutchman Diederik van Silfhout and Arlando NH in fourth spot.
Up for grabs
With last-minute points still up for grabs it was always going to be an interesting contest, and Sweden's Paulinda Friberg took full advantage of one more opportunity to add to her scoreline when posting 76.750 with her black mare, di Lapponia T, just after the judging break. This would eventually leave her in eighth place in today's competition and in overall eleventh spot on the series leaderboard. And, as it turned out, it was plenty good enough to book her ticket to the World Cup Dressage 2014/2015 Final in Las Vegas, USA next month.
Patrick van der Meer posted an impressive 77.750 with Uzzo to take the lead just before Werth set off with Don Johnson who really turned it on today as he set a significantly higher target score of 81.650. The double World Cup Dressage champion decided some time ago that El Santo would be her choice for Las Vegas, but she also wanted to demonstrate the improvements "Johnny" has made. And her decision to return to the music she used when campaigning her former star Warum Nicht, or Hannes as he was also known, turned out to be something of a triumph.
Continues to sparkle
Spain's Morgan Barbancon Mestre didn't present any real threat when scoring 78.900 with Painted Black, but at 18 years of age this stallion, who was so successful earlier in his career for Dutch legend Anky van Grunsven from The Netherlands, continues to sparkle. And his mark would eventually leave the pair in fifth spot and earn another of those much-sought-after berths in Las Vegas.
However all eyes were on Gal and Undercover as they set off with just three left to run, and it was clear from the outset that the Dutchman was not going to have an easy time. Gal knows how to create enormous energy and power in his horses, but containing it is another thing entirely and the 45-year-old ace had to call on all his extensive experience to complete a test that swung from brilliant to extremely tense. Such was the quality of the good work however that the scoreboard showed 84.925 after they left the arena.
Diederik van Silfhout produced a happy, balanced and compliant performance from Arlando for a mark of 79.925 when second-last to go while Dutch compatriot, Hans Peter Minderhoud, also had plenty of reason to be pleased with Flirt when last to go. The chestnut gelding was confident and rhythmic throughout his test, and Dutch coach, Wim Ernes, was smiling broadly when a mark of 80.425 went up on the board for this pair. 
Winning test
Gal talked afterwards about his winning test during which he ran into trouble during both of   his tempi changes.
"He (Undercover) felt very good at the start but then we made a little mistake, and at the start of the changes there was another mistake and we lost a little bit there, but for most of it he felt quite good" he said.
He said he was expecting a strong test because Undercover did a good warm-up, "but when he came in to the big arena with all those people he was very aware of them. When we started I thought "OK, this is really nice!", but the mistakes cost us a lot of points even though the percentage marks we got were good". So now he's thinking ahead to how his horse will cope with the buzz and excitement of the Thomas & Mack Arena in Las Vegas.
"It is the way he is to get a little excited, so for me it's better not to think too much about it!" he said this evening. "I just hope he will grow into it, it felt easier for him today but you never know. The difference for me now is that I feel I have enough control and I'm enjoying riding him like this, but I will have to ride my very best there. I know he will be a little bit tense, but when he goes well he is so brilliant, and I will just have to try very hard to help him!" he insisted.
Made the cut
Today's result has now decided the top nine riders who have made the cut to the World Cup™ Dressage Final 2014/2015, but it is not the first nine names on the Western European League leaderboard.
There can only be three representatives from each nation, and since five of the top nine are from Germany, only Jessica von Bredow-Werndl, Fabienne Lutkemeier and Isabell Werth will fly their nation's flag while Ulla Salzgeber and Sonke Rothenberger miss out. Gal, Danielle Heijkoop and Minderhoud will represent The Netherlands while Agnete Kirk Thinggaard will be the sole Danish competitor, and the door to the 30th  World Cup Dressage Final has opened up for Spain's Morgan Barbancon Mestre and Sweden's Paulinda Friberg.
by Louise Parkes for the FEI
Related Links
Scores 2015 CDI-W 's Hertogenbosch
Gal Makes Debut on New FEI Ride, Zonik, at 2015 CDI-W 's Hertogenbosch
Eurodressage Coverage of the 2014-2015 World Cup show circuit