2015 CDIO Vidauban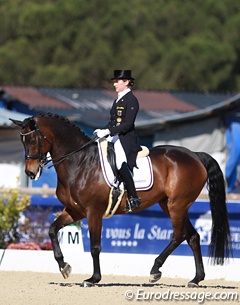 German Victoria Michalke made the effort work of bringing a truck full of horses over to the 2015 Vidauban Dressage Festival. During the first week of competition at the CDIO Vidauban on 5 - 8 March 2015, she claimed throphies in 3* Grand Prix for Special tour on Wasabi and in the medium tour classes on Novia. With Dance On she ranked in the top five of the CDIO leg thrice!
Michalke turned Vidauban in a very tidy campaign as she scored high marks in the big tour on her 10-year old Oldenberger gelding Wasabi (by Welt Hit IV). Posting marks of 72.040% and 71.569% in the 3* Grand Prix and Special on the board, Victoria rode herself into the spotlight. In the Medium tour she aced the classes on her 9-year old Bavarian mare Novia with 68.639% in the Intermediaire A and 70.143% in the Intermediaire B. To round things off she placed second in the CDIO Grand Prix with 69.460%, followed by a fifth place in the Special (69.765%) and freestyle (74.150%) on her 13-year old Oldenburg bred Dance On (by Dream of Heidelberg x Welt As).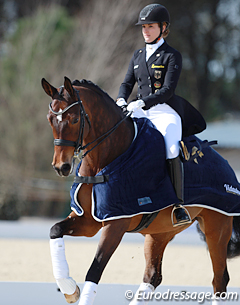 "I made the trip to the show with my truck from Munich to Vidauban, and as it is a long trip we made a stop in Milan," Michalke explained. "I was really, really, happy with my horses at the show. They improved a lot over the winter and gained much strength. It was great to get these result in competition."
Victoria has been riding her younger horse Novia since she was 5, and says the mare is very smart. "We saw her at a competition not far from us and loved her. She is a little diva and learns very fast," said Victoria about the cute bay mare.
Her most experienced Grand Prix horse Dance On is, according to Victoria,  still a bit nervous at competitions. Nevertheless he always wants to do his best. "I have been training him since he was three so we have done everything together," said Victoria who moved the black up to levels and last campaigned him in the Under 25 division before moving to senior Grand Prix level.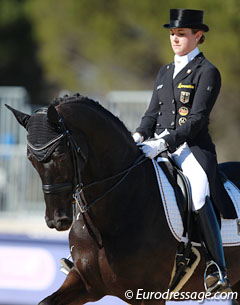 Riding her Grand Prix CDI horse Wasabi since he was four, Victoria found him near Hamburg at the stable of Herbert Kruse. She says he is really intelligent and learns very fast. "He always wants to make everything right!"
Victoria has been working with Stefan Münch as head trainer for the past 10 years but she also gets help from German team trainer Monica Theodorescu at shows. Theodorescu also goes occasionally to their stable Gut Daxau near Munich to fine-tune Victoria's skills.
Text by Sarah Warne - Photos © Astrid Appels
Eurodressage's Astrid Appels took photos of all riders competing in the CDIO Vidauban. If you are interested in photos, contact us by email with your name and the name of the horse
Related Link
Eurodressage On the Scene at the 2015 Vidauban Dressage Festival