Danish Warmblood Breeding News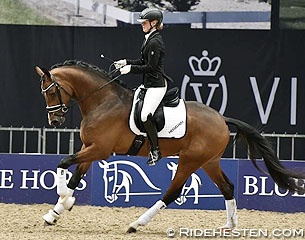 Sixteen 3-year old dressage bred colts were approved at 2015 Danish Warmblood Stallion Licensing held in Herning, Denmark, on 5 - 8 March 2015. Six of them were awarded a premium but for the first time no licensing champion was named.
Poul Graugaard of the Danish Warmblood Stallion Licensing Committee praised the collection as the best in many years, "probably the best collection ever."
A couple of months ago the Danish Warmblood Society decided no longer name a champion stallion at the licensing for the same reason as the Hanoverian society dropped the concept of licensing champion a few years ago. They don't want breeders to focus on just one stallion, but rather on the whole collection of approved colts.

A total of 25 young dressage and show jumping stallions approved in Herning will now move forward to the mandatory 10-day observation test following immediately after the licensing, prior to receiving their full license for the 2015 breeding season.
The premium stallion UNO Don Olympic (by Don Olymbrio x Del Piero) became the price highlight at the auction following the licensing. He sold for 94,000 euro to Danish U25 rider Anna Zibrandtsen. Jens Thorsen of Gestüt Pallerhaff in Luxemburg acquired 1/3 share in the ownership of UNO Spotlight (by San Amour x Donnerhall). He paid  67,000 euro for that share and now co-owns the horse with Stutteri EVO and Stutteri UNO. The average price for a stallion at auction was 32,462 euro.
The premium dressage stallions are
Hesselhøj Donkey Boy (by ERA Dancing Hit x Milan), owned and bred by Hesselhøj Hestecente
UNO Don Olympic (by Don Olymbrio x Del Piero), owned and bred by Stutteri UNO
Dreamline Kilen (by Don Olymbrio x Hotline), owned by Blue Hors, bred by Åse & Henning Urup
Foxtrot (by Foundation x Fürst Heinrich,) owned by Helgstrand Dressage A, bred by Karl Rumpke
Salut Halsnæs (by Temptation x De Noir), owned by Kristin G. Andresen, bred by Vibeke & Søren Juellund
Zalabaster (by  Zack x Alabaster), owned by Blue Hors, bred by Zuchthof Bauer Andrea
The approved dressage stallions
ERA Dark Legend (by Dancier x Sandro Hit), owned by Stina & Jørgen Schmidt, bred by Stutteri ERA
D'Avie (by Don Juan de Hus x Londonderry), owned by Helgstrand Dressage, bred by Dorothee Heitmüller
Happy Feet (by Don Schufro x Jazz), owned by Helgstrand Dressage, bred by W.E. de Korte
Feel Good (by Fürstenball x Friedensfürst), owned by Lars Stage & Bruno Vantomme, bred by Lone Bøegh Henriksen
Romador Elton (by Romanov x Matador), owned by Jens Erik Marcussen, bred by Harry Elton Hansen
Zirrus (by Zack x Donnerhall), owned by Blue Hors, bred by Inge Bastian
Tin Tin (by Attention x Cavalier), owned and bred by Ib Kirk
Spartacus (by Sporcken x Weltmeyer), owned by Jens Peter Aggesen, bred by Sandra Weyand
Alt For Damerne (by Sunny-Boy x Zalmiak), owned and bred by Morten Plenborg
Zoulmate (by Zack x Donnerhall), owned by Helgstrand Dressage, bred by Gestüt Glanetal
Photo © Ridehesten.com
Related Links
Eleven Older Dressage Stallions Approved at 2015 Danish Warmblood Licensing
Galaxy Win T, Champion of the 2014 Danish Warmblood Stallion Licensing
Zee Me Blue, Champion of the 2013 Danish Warmblood Stallion Licensing
Zorba Hojris, Champion of the 2012 Danish Warmblood Stallion Licensing
ERA Dancing Hit, Champion of the 2011 Danish Warmblood Stallion Licensing
Soreldo, Champion of the 2010 Danish Warmblood Stallion Licensing
L'Espoir, Champion of the 2009 Danish Warmblood Stallion Licensing
Blue Hors Doolittle, Champion of the 2008 Danish Stallion Licensing
Develino, Champion of the 2007 Danish Warmblood Stallion Licensing
Schufro Hit and Krake, 2006 Danish Warmblood Licensing Champions
Valløs de Baron, Champion of the 2005 Danish Warmblood Stallion Licensing
Blue Hors Leredo, Champion of 2004 Danish Warmblood Stallion Licensing