2015 CDIO Vidauban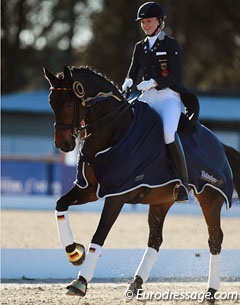 Set in beautiful, clear spring weather with blue sky and crisp sunlight hitting the show grounds, the 2015 CDIO Vidauban kicked off in great style on Thursday 5 March 2015. The Young Riders division was a very interesting one to watch with some Germany and Holland's best young pairs making their outdoor show debut in the South of France.
Both 2014 European Junior Rider Champion Anna Christina Abbelen and her German team gold medal winning team mate Jessica Krieg made the transition from junior to young riders in 2015 and Vidauban was the place where they tested their skill and horses' fitness as both young ladies brought two horses to contest the class.
Krieg was the first of 19 riders to go aboard her coach Stephanie Meyer-Biss' 12-year old Hanoverian mare Revers Side (by Romancero H x Archipel) and she immediately produced a trend setting test. With 73.728% she scored the winning percentage and claimed victory. Abbelen got sandwiched by Krieg as the former ranked second on her new horse, the 9-year old Baden Wurttemberger mare First Lady (by Florencio x Donnerhall) on 73.640%. Anna-Christina's impressive and tall black dame First Lady was on Revers Side's heels with just a few points less.
Krieg and her 2014 European Championship horse Special Edition (by Sir Donnerhall x Rohdiamant) landed third place on 72.456%. The liver chestnut gelding showed tremendous improvement since last summer as he was more steady in the contact.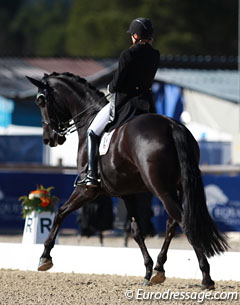 "Revers Side was really wonderful to ride," Krieg told Eurodressage. "She gave me a very good feeling, she was concentrated and present the whole test. It was much fun today because she was with me the whole time." Krieg reported that her horses got a short break in the autumn and then picked up training again to prepare the season by focusing on the pirouette and flying changes. It is Jessica's first time in Vidauaban and she's loving the show. "The show grounds are wonderful; it's my first time here and I hope that I can come back again," she stated. "The atmosphere is fantastic, the organisation ist great and everyone is very friendly! It is much fun and a pleasure to ride here."
Dutch sister duo Denise and Jeanine Nekeman completed the top five. Both ladies showed much materity as young riders levels, especially Jeanine who made the transition from Juniors to Young Riders this year. Her 13-year old Dutch warmblood geldin Vlingh (by Flemming x Donnerschlag) was much more regular and well carried in the trot work. The tempi changes were straight and very solid but in the extensions the bay did not open in the ribcage. Denise and her cute black KWPN Stallion Boston (by Johnson x Quattro) scored 71.667%, sister Jeanine earned 71.404%
Text and Photos © Astrid Appels - No reproduction allowed
For more information on the CDIO Vidauban, visit www.domaine-equestre.com - Follow the 2015 Vidauban Dressage Festival on Facebook
Related Link
Eurodressage On the Scene at the 2015 Vidauban Dressage Festival