2015 CDI-W Neumunster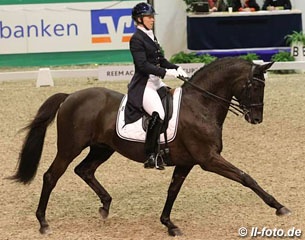 Earning their highest ever Grand Prix score at the 2015 CDI-W Amsterdam on 29 - 31 January 2015 followed by more personal best rides at the 2015 CDI-W Neumunster on 13 - 15 February 2015, Finland's Terhi Stegars and 16-year old Axis seem to be coming of age in 2015 and reaching new heights in the show ring.
The Luxembourg based Finnish rider has had an amazing run in the Western European World Cup League so far. She was very happy with her 7th place in the Grand Prix and their 10th place in the Grand Prix Kur in Amsterdam. With scores of 73.100% and 75.675%, Terhi says it's a memory she will hold for a long time!

"The ride in Amsterdam was just amazing, and I am really pleased that the test scores matched my feeling," said Terhi.
Having improved a lot over the last year, Terhi told Eurodressage she hasn't actually changed anything specific in the way she works Axis (by Sixtus x Angard), but she puts their continued success down to two things. 
"Firstly, the ongoing training I receive from Richard White, Kyra Kyrklund's husband, and secondly that Axis and I are a long established team. The length of our relationship has allowed me to switch focus from teaching new movements to polishing existing routines, as Axis already knows everything for the Grand Prix," said Stegars.
This has enabled Terhi and Axis to build on their Amsterdam experience, going on to produce their highest Freestyle score to date,  a 77.6% at the 2015 CDI-W Neumünster in Germany.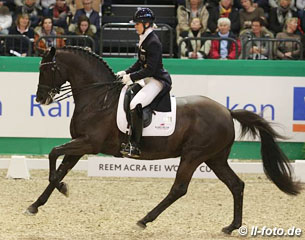 "It is never boring with Axis.  He is a very active, social horse who is always watching what is going on," she said. "He is King of the stables, is hugely self-confident, and thinks he owns the whole world. He gets very excited by small ponies and carriages, which can make big international competitions rather lively.   His particular favorites are light chestnut or grey mares, and he is completely in love with Bella Rose, and secretly has a crush on Half Moon Delphi."
Terhi adds that Axis is a great competition horse as he is very brave and rarely gets spooked by anything except his own shadow.  
"Riding him is a real treat, and as for future plans I have my sights set on Las Vegas followed by the European championships," she concluded.
by Sarah Warne - Photos © LL-foto
Related Links
Scores: 2015 CDI-W Amsterdam
Scores: 2015 CDI-W Neumunster
Salzgeber Leads German Charge at 2015 CDI-W Neumunster
Photo Report: Grand Prix Action from the 2015 CDI-W Neumunster
Kathleen Keller and Desperados Sweep Small Tour at 2015 CDI-W Neumunster