History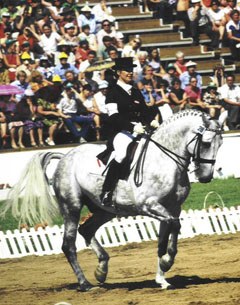 The 1980 Olympic Games in Moscow certainly were an affair to remember as they became known as the "boycott Games". Host country USSR had sent troops to Afghanistan to support the new communist regime, which prompted US-president Jimmy Carter to boycott the Games.
Numerous nations, but not all, followed in their wake. The FEI reacted in its own way by providing "Olympic Festivals" in Goodwood as an alternative for those riders unable or unwilling to go to Moscow. Eurodressage asked 1980 Olympic gold medalist Sissy Max-Theurer, 1980 Olympic judge Jytte Lemkow and 1980 Goodwood Alternate Olympic winner Christine Stuckelburger to think back on those tumultuous days. 
The 1980 Olympic Games: Sissy Max-Theurer's Recollections
I have always had the opinion that one shouldn't mix up politics with sport. Generally sport should have the function to bring people together.
In 1980 it was seen differently. The Soviets had invaded Afghanistan to stop the Taliban's advance. US- president Jimmy Carter loudly promoted a boycott of the Moscow Games and thought to be able to put political pressure through the sport. In the end 65 countries world-wide of 148 NOC followed which hit many sportsmen on the height of their careers. When in 2001 the USA occupied Aghanistan militarilly and shortly after the Olympic Winter Games took place in Salt Lake City (USA), nobody talked of a boycott.
The history of the Olympic Games is a story of bans, boycott threats and actual boycotts. 1952 in Helsinki (Finland) it had been the conflict between nowadays Taiwan and the Peoples' Republic of China which led to Taiwan staying home. As an "answer" to the Moscow boycott all the countries of the political east block (except Romania) didn't travel to Los Angeles (USA) in 1984. They justified this with alleged fears regarding the security of their athletes because of the anti-communistic attitude of the host-country. The first truly boycott-free Games only happened in Sydney 2000.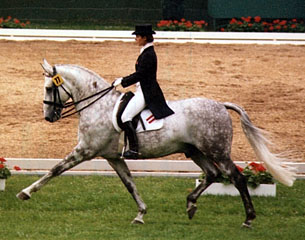 In Great Britain the government was for a boycott in 1980, but it was left to the athletes to take part in Moscow or not. Most of them who travelled to Moscow were the US- allies France, Finland, Ireland, Italy, New–Zealand, Spain and Sweden. The Austrian NOC also did not follow the boycott-appeal of US-president Jimmy Carter.
To me it was clear that I wanted to start at the Olympic Games because I had won gold with Mon Cherie at the 1979 European championships in Aarhus and with that had finished a 4-year-long reign of Christine Stückelberger and Granat. In the Olympic year 1980 we came twice 2nd at the CHIO in Aachen, only beaten by Dr. Uwe Schulten-Baumer on Slibowitz in the Grand Prix and by Dr. Reiner Klimke on Ahlerich in the Special. At age ten Mon Cherie was in absolute top form and I didn't know if I would get the chance to take part in Olympic Games once again.
But back to Moscow and its summer Games, which were very well organised compared to Los Angeles 1984, I took part in Barcelona 1992, Athens 2004, Hongkong 2008 and London 2012 either as rider or advisor. Also the hospitality of the Russians was overwhelming. Their concept of security and the organisation are still very well on my mind. The stabling of the horses was superior in new permament boxes. The equestrian park offered everything needed.
The facilities were located a bit outside Moscow and were in truly good condition. Only the surfaces had been a bit deep which made it a bit difficult on the horses. Back then a Grand Prix lasted 12 minutes and it included many piaffe-passage-tours, which cost enormous strength.
The competitions were well visited and the rivals not to be underestimated. The dressage riders of the Soviet Union had been quite successful at that time and also the later medal winner Kyra Kyrklund from Finland started.
An adventure of the special kind had been Mon Cherie's transport to Moscow. Ex formula 1- pilot Niki Lauda himself flew my horse in a self-built container with one of his planes, even though it was a work of milimetres to load Mon Cherie onto this comparatively small plane. But he handled the flight very well and the horse felt generally very well during our 10-days-stay in Moscow.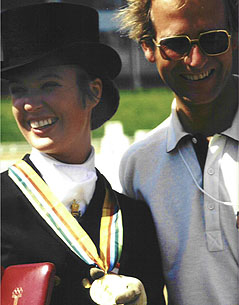 When I compare my both gold rides I was surely under less pressure at the European 1979, whereas we had been clear favourites in 1980. In 1979 nobody expected us to win, on the contrary. Christine Stückelberger already gave a winner's interview when I still had to enter the arena. In the end we were happy that we could show a great ride in Moscow and deservedly became Olympic champions.
When we returned home to Austria also the officials were happy about the medal win, because Austria is traditionally not that successful in the summer Games. And in equestrian sport never before the Austrian national anthem had been played in honor of the winner.
Also nowadays I would decide again to go for the Olympics. And I wish for all active athletes that there will never be boycott games again in which athletes are forced to decide between the demands of politics and their sport.
For Mon Cherie the Olympic Games in Moscow had sadly been his last international appearance. During an examination because of a breathing noise he was diagnosed with an inoperable melanoma near the larynx. With a heavy heart we decided to retire him from the sport. He spent a few nice years with us in the fields until his death in 1985.
The exciting days of Moscow will always accompany me in my memory and I like to think back to them. Even today I still get fan mail from Russia.
The boycott Games of Moscow 1980: Jytte Lemkow's point of view

Jytte Lemkow is a former dressage rider, retired I-judge and still an enthusiastic equestrian journalist. She became a judge in Denmark at age 25 and made herself a name by becoming an FEI-judge in her thirties, supported by Swedish colonel Gustav Nyblaeus, one of the most respected dressage judges of all times and at the time chairman of the FEI dressage committee.
At age 37 Jytte judged the Olympic Games of Moscow and set a record by having been the youngest Olympic dressage judge to this day.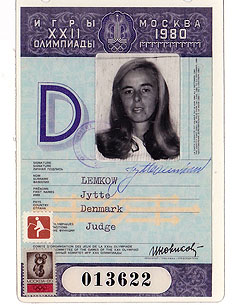 When Gustav Nyblaeus, who had fostered my interest and desire to learn from the early 1970s on, asked me to judge at the 1980 Moscow Games, it came as a big surprise to me. Firstly I was only 37 and secondly I didn't carry the O-status which usually is a requirement. It was less than a month before Moscow and initially Joan Hall, the experienced British judge, had been nominated, but she had to withdrew due to threats and so I took her position. Colonel Nyblaeus told me the missing O-status wouldn't be a problem. I would get it after the Games, and I was high on the list to get that anyway (unfortunately it never realized later when Wolfgang Niggli shortly after the Games took over in the FEI dressage committee). Even though I was still only in my thirties, I had four seasons of international judging behind me, after starting at the Hamburger Derby in 1977.
When I was called to judge at Moscow I was excited at the prospect judging at the Olympics, but on the other hand I was well aware of the political situation and what level of equitation we would see there. Almost all dressage nations had decided to boycott the Moscow Games and to compete at the Olympic Festival in Goodwood instead. I knew that many of the pairs I would have to judge at the Olympics were not  there voluntarily, but had been called by the Soviet Union.
Even though some of these horses were no Grand Prix horses and only trained at small tour level, I think to remember I have seen most of them beforehand. I had judged at the 1979 Balkan Games in Athens. And the Russians had competed at Hamburg beforehand.
Before I agreed judging at Moscow I had a conversation with Gustav Nyblaeus because of the performances to be expected there. I told him I only agree judging at Moscow and replace Joan Hall when I am allowed to judge what I see. Without taking into account that these were the Olympics and some riders did not compete there by choice. His answer had been: "Of course you should do exactly this!" So, although my Olympic debut was awaiting me at an age a judge today can only dream of, I travelled to Moscow without great delight.
The performances there then actually were anything else but a delight! We judges were completely aware that we judged mostly rides which weren't Olympic level.
It wasn't particularly difficult to judge so many bad rides, but it was strange. One rider from Romania who had been forced to start not even tried to give a half halt to indicate he wants to piaffe. His horse, quite a nice one, was an Intermediate I horse and just couldn't do it! He got a 0 from all judges.
To illustrate the level we faced at Moscow: In my final overall marks I awarded 8 out of 14 starters an average below 4!
Judging under these circumstances meant either feel pitiful and judge accordingly or judge simply what was presented to you. As I made clear from the beginning I judged what I saw. This has always been my credo in my long judge's career which spanned 25 years and comprised 30 countries all over the world.
But there are also nice memories of the Moscow Games. One having been Sissi Max-Theurer's rides with Mon Cherie. Her ride gave Moscow Olympic glamour. She had no rival and won well ahead of Juri Kovshov and Viktor Ugrimov, both from the host country. Sissi had been the 1979 individual European champion and was the only one from the top-riders who took part. But for several years her colleagues criticized her for exactly this and her easily won Olympic gold medal.
Personally my best memory of Moscow happened outside the Olympic rectangle. The Russian rider Viktor Ugrimov had a reserve-horse Jenisei, whom he had started at Hamburg several times. This horse was a big favourite of mine because of his very special golden chestnut color and white mane. The stallion was most beautiful and Viktor had repeatedly promised me to be allowed to ride him. I had learned a bit of Russian in courses and he spoke a bit of German and so we managed an appointment after the Olympic competition was over. Early in the morning I rode Jenisei in jeans and sneakers on a race track close to where the Olympic horses were stabled. When I later confessed the experience to Gustav Nyblaeus, he just smiled and said: "Typical Jytte!"
Alternative Games Goodwood 1980: Christine Stückelberger's point of view
Swiss Christine Stückelberger was the reigning Olympic champion and again favourite for another gold medal in 1980.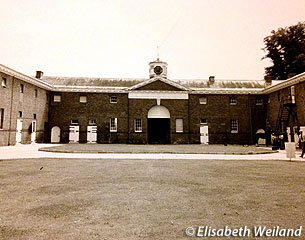 When early in 1980 the issue arose if, as a reaction to the Russian invasion, a boycott of the Moscow Olympic Games should be considered, I had been one of the first sportsmen in my country to be for it.
I was aware that not going to Moscow meant to lose a possible second Olympic gold medal, but in this case I didn't mind. I strongly believed that we could not go to Moscow celebrating Olympic Games while at the same time Soviet troops occupied another country. Of course we knew that we couldn't stop them by not traveling to Moscow. It was rather a thing everybody had to decide based upon his own morale and ethical standards. My trainer Georg Wahl who was my alter ego wasn't a political man and he agreed on my decision as long as I was happy with it.
While the German Equestrian Federation already decided in May 1980 not to send riders to Moscow, there was a big riders' meeting during the CDIO Aachen which also judges and trainers attended. The situation was thoroughly discussed  and we were all in unison not to take part in the Olympic Games under the current circumstances.
In Switzerland our chef d'equipe Hans Syz agreed and contacted the Swiss NOC as my country, unlike Germany, did not support a total boycott of the Games. There were a few athletes who did not allow their Olympic dreams slip away after years of hard work and took part in Moscow.
It took the dressage community by surprise that three weeks before Moscow we read in the newspapers that Sissi Theurer, the 1979 European Champion, declared traveling to Moscow in a Fokker plane of Austrian formula 1 driver Niki Lauda as she too had initially agreed not to go there during the meeting in Aachen. It caused a lot of stir. Kyra Kyrklund from Finland also went to Moscow and nobody cared a lot. I think the reason why the whole thing was held against Sissi was because she had been the favourite for the title.
Shortly after the Moscow Games we had the Alternative Games, the so-called Olympic Festival, at Goodwood. Of course it lacked the big razzmatazz of th eOlympic, but the organizers had tried their very best to create a festive atmosphere. Within the possibilities they reached the optimum. There was considerable more press present than at any usual CDI, of course. The best riders and horses in the world had been there and in particular Dr. Reiner Klimke did not tire from stressing that Goodwood was more valuable than Moscow because the sport happened at Goodwood. One has to know that the Soviets forced their socialist sister countries such as Romania, Bulgaria and Poland to attend the Olympic dressage, even though they lacked suitable horses. Often they would only own PSG horses, but they had to come and perform. So when there was passage asked, they trotted and when they should do piaffe they halted.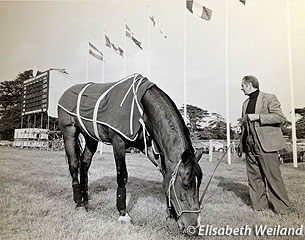 What I remember most of Goodwood in 1980 had not Granat's second individual gold medal after Montreal, but the very friendly informal atmosphere between all riders there. The boycott had welded us together. The reactions in my home country were overwhelming. Instead of blaming me for not winning a real gold medal at Moscow, they approved my decision not to go. The public more acknowledged this fact than the gold medal from Goodwood.
When in hindsight it was discussed in the media and by the public how useful the boycott had been, the answer was pretty useless.  I cannot completely agree for myself. Of course the boycott didn't influence the Soviet Union's political decisions, but this had never been the hope nor aim. Boycotting or not was a question of being in peace with oneself or not regarding morale standards.
I know it was a lot, maybe too much, asked of sportsmen and sportswomen who only had this one chance to get to the Olympics and whose dreams had been shattered by a decision of their NOC. As a sportswoman myself I still feel for them. But in my own case I absolutely don't regret to this very day having boycotted the Moscow Games.
Text edited by Silke Rottermann for Eurodressage - Photos © Elisabeth Weiland - private
Related Links
An Affair to Remember: the 1980 Olympic Games
Scores: 1980 Olympic Games
Greatest Oldies: Granat, From Ugly Duck to Beautiful Swan
Greatest Oldies: Mon Cherie, The Joyous Gift