Opinions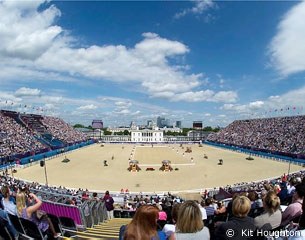 There has been much debate in the dressage world recently over how to make the Grand Prix more appealing for public viewing. There have been a number of possible alterations offered, such as removing the rein back, the halt, and everything else that is deemed less exciting. I started to wonder if it would be better if we just cowboy in with a jump entry into the arena at a point we decided, and then spend two minutes yeehaa-ing our way around, a few extensions, a couple of pirouettes and boom, we've got ourselves a spectacle!
The truth is that dressage is not a sport that will ever attract the same crowd as a football match, or an extreme sport, but there are a lot of dedicated dressage enthusiasts and horse lovers, who would probably be more excited to watch the dressage if some changes were made;  perhaps not in the way suggested.
A recent survey by the IDRC gave a number of options as to what would make the Grand Prix more exciting to watch. The list included shortening the time of the test, improving the judging, more transparency in the judging, shortening the program, etc.
What the survey didn't ask was what I think keeps many pure dressage lovers from venturing out of home and traveling to international shows. I have been to international competitions and watched the Grand Prix from start to finish, and often there were about five combinations that I enjoyed watching. For much of the event I found myself screwing my face up during the tests and I had to remind myself to relax my face scared I might age ten years while watching.
I started to think about what makes dressage worth watching, for the people who love horses, or riding, or animals in general, and I remembered all the times when I have been completely transfixed by a Grand Prix performance. There was Reiner Klimke and Ahlerich, Kyra Kirkland and Matador, which are just a few names that spring into my mind. They remind me of that feeling, when you get butterflies in your stomach and you start moving around and bobbing your head in time to the beat of the dance in front of you. What was it that make these combinations so much more watchable? The wonderful indescribable harmonious link between horse and rider!
Currently the only mention of the actual connection between rider and horse is in the marks for submission (attention and confidence; harmony, lightness and ease of the movements; straightness; acceptance of the bridle and lightness of the forehand), and I wondered whether that is really what needs to be altered.
Whether it be the most brilliant horse in the world, or just a good horse without exceptional paces, an audience can see and feel when horse and rider are united as one, that the horse is happy, that the rider is enjoying it, and that the two have created a relationship based on trust and compassion.
Imagine if this was given more weight in the scoring, so that riders and their horses had to set out to foster that special bond, and so the presentation offered to people was not one of flash, or shorter time, or less difficulty, but one of harmony and togetherness, horse and rider becoming as one.
If you asked the dressage world if they would sit through a night of horse and rider harmony, I truly feel that this is what would draw the crowd and increase the television rating. If you are unsure, ask yourself when you were truly moved by a Grand Prix test, and what was it that moved you, and then ask if you would be happy to sit through more of those moments, watching dressage becoming art.
by Sarah Warne  - Photo © Kit Houghton
Related Links
Editorial: Love's Labour's Lost