KWPN Breeding News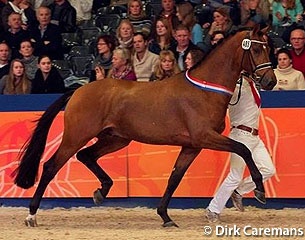 The bay Handsome O (by Johnson x Rousseau) has been named champion of the 2015 KWPN Stallion Licensing in 's Hertogenbosch, The Netherlands, on Saturday 7 February 2015.
Bred by P. Oosterbosch and owned by Jan Brouwer, the stallion also sold for the top knock down price at the KWPN Select Sale. Norwegian Kirsten Andresen acquired him for 300,000 euro.
"The champion stands out with his strength, potential to collect and his uphill way of moving. Also the canter is his strong point," said Wim Ernes, chair of the KWPN Licensing Committee.
Thirty-one stallions in total were approved to do the final phase of the KWPN Stallion Licensing, the Stallion Performance Testing, before they obtain full licensed status. Eight of those were invited to the premium ring.
The reserve champion was Hornrose (by Apache x Ferro), bred and owned by Frans and Martien Burgers. This lightfooted black stallion has a striking appearance and was praised for his hindleg usage.
Handsome (by Wynton x Cabochon) finished third in the premium ring. This elegant colt with beautiful front is bred by K. van Zaanen.
The other premium stallions were Happiness Returns C (by Jazz x Flemmingh), Hummer (by Jazz x Westpoint), Harlem D (by Vivaldi x Donnerhall), Hilltop (by Chagall x Tuschinski), and Handsome Boy (by De Niro x Jazz).
The second most expensive stallion at the auction was the approved Hot Game (by Easy Game), which was acquired for Robin van Lierop by RS2 Dressage Center for 140,000 euro. Andreas Helgstrand from Denmark bought Hot Shot VDT and Happiness Returns C for 100,000 euro and 90,000 euro. Russian Nataliya Bronnikova bought Hummer for 85,000 euro.
The average price for a stallion at this auction was about 57,000 euro.
Photo © Dirk Caremans
Related Links
Thirteen Colts Accepted on Fourth Pre-Selection Day for 2015 KWPN Stallion Licensing
Twenty-Three Colts Accepted on Third Pre-Selection Day for 2015 KWPN Stallion Licensing
Thirty-One Colts Accepted on Second Pre-Selection Day for 2015 KWPN Stallion Licensing
Nineteen Colts Accepted at First Pre-Selection Day for 2015 KWPN Stallion Licensing
Previous Champions
Glamourdale, Champion of the 2014 KWPN Stallion Licensing
Fierce S (Franklin), Champion of the 2013 KWPN Stallion Licensing
Etoine, Champion of the 2012 KWPN Stallion Licensing
Diebrecht, Champion of the 2011 KWPN Stallion Licensing
Cover Story, Champion of the 2010 KWPN Stallion Licensing
Bordeaux, Champion of the 2009 KWPN Stallion Licensing
Ajong (aka Ampere), Champion of the 2008 KWPN Stallion Licensing
Zagreb (aka Blue Hors Zack), Champion of the 2007 KWPN Stallion Licensing
Wamberto, Champion of the 2006 KWPN Stallion Licensing
Johnson, Champion of the 2005 KWPN Stallion Licensing
Ustinov and Uptown, 2004 KWPN Stallion Licensing Champions
Tornado, Champion of the 2003 KWPN Stallion Licensing
Symfonie, 2002 KWPN Licensing Champion
First KWPN Select Sale at 2001 KWPN Stallion Licensing
Paddo, 2000 KWPN Stallion Licensing Champion