2015 CDI Wellington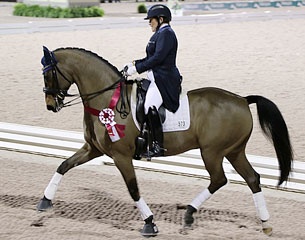 Shelly Francis riding Patricia Stempel's 12-year old gelding Doktor (by Diamond Hit x Renoir) scored a 72.200% to place third in the Grand Prix and a 74.500% to place second in the Grand Prix Freestyle under the lights at the second CDI-W
during week 3 at the Adequan Global Dressage Festival series in Florida. Confident of their ongoing success in the big arena, Shelly was thrilled at the victories, "I can finally squeeze him a bit and tell him, 'Come on, let's do a little more now.'" 
Now Doktor's third year in the international ring after a full 2014 European summer tour for the US Dressage Team, he is a confirmed and mature international competitor for the United States. Together the pair competed last summer in Fritzen, Austria, at Aachen, and as alternate for the World Equestrian Games. Taking five years to train to the Grand Prix level and another two years in the international arena before becoming a seasoned world class competitor, Shelly acknowledged Doktor's aptitude, "He understands the job. He has strength for the job. It's only a matter of fine-tuning now."
Entering the CDI arena with an ambitious agenda for 2015, Shelly is preparing to campaign a total of three horses this season—Doktor who is already competing in the International Grand Prix arena, 11-year old gelding Danilo (by De Niro x Andiamo) in the Grand Prix ring, and 9-year old gelding Rubinio (by Roh Magic x Philipo) in the Small Tour.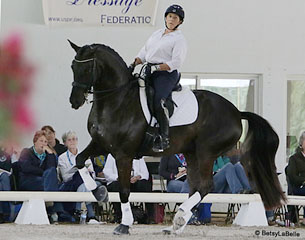 Revealing that the gelding Danilo is just now beginning to understand the Grand Prix international arena atmosphere, Shelly said, "He still has a hot streak in there that turns a real, 'I'm nervous now' button. He still has confidence to build in the atmosphere of the big ring at the Grand Prix level." She continued, "Physically he's pretty able. He may need a bit more strength in there, but overall he needs the miles in the arena with the entire quality setting provided at AGDF. The National Grand Prix classes no longer give him the exposure to the backdrop noises that he needs. To go into the big CDI ring to work out the spooks and tension is what we need to build the relaxation and strength, for a solid future."
An eight-year resident of Loxahatchee, Florida, Shelly trains a stable full of horses and riders throughout the year. For most of the last twenty years, Shelly has quietly achieved a top twelve ranking in the United States Festival of Champions with a horse either in the Prix St Georges (Small Tour) or the Grand Prix (Large Tour). She appreciates the warmer climate, early season training, and competitions.
She said, "To have the Adequan Global Dressage Festival, a top-notch show ground here in Florida, prepares us for competitions in Europe for the summer. The clanking of the dishes, white table cloths billowing in the VIP tent, people walking about under the lights and during the day really has the same atmosphere as the best shows in Europe. It's truly become equal to any major indoor competition. It's an excellent facility with as much presence as any other large competition in the world. It's set up so that lots of people can watch. It's really good."
Shelly added, "There is no comparison to Aachen, but this series of competitions really equips us with what we need. For instance, Doktor will run if he's frightened, but through the competition season last year he really established himself well in there. We still struggle during the awards ceremonies where we have to watch out for safety and his future confidence." She continued, "These sport horses are hotter than years past and for the long run of the horse, we all must use caution and welfare for the horses during the awards. And if that means leaving before the victory gallop, then that's what we have to do."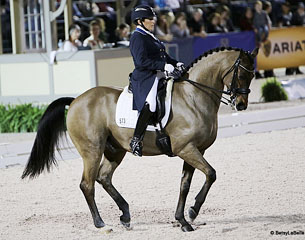 She anticipates training, "Even though it may be expensive to train Danilo in the CDI ring, I need to do it my way. I want him to feel comfortable and this atmosphere gives him something to get uncomfortable about so that I can get him comfortable."
She also described small tour gelding Rubinio coming out this season, "He may come into the arena and be stunningly beautiful or full of mistakes. At home, he's training all the Grand Prix movements, but he's nowhere near ready for the big Grand Prix ring. We need another year or so."
And Shelly's fourth horse, 10-year old Le Roi (L'Andiamo out of Donnerpearl) will be competing with young apprentice Rebecca Waite who will compete the gelding next year in the Small Tour and perhaps at the U25 Grand Prix.
This 5'2" dressage professional has developed her skill s and know-how through ingenuity and invention. Using a sequential step by step method of training, Shelly trains her own horses. It has taken Shelly more than five years to get four of her newest horses to the international level and she enjoys training most of all, "I find my horses as youngsters and train them up the ladder to international competition."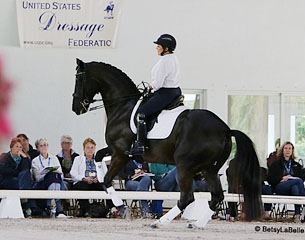 She mischievously said, "I'm not getting any younger at 56 years of age. I'm still training and competing horses. I want to do this until I can't, but I also want a couple of young people to stay on at my stable as apprentices to learn my method of 'madness' [training]—how I care for the horses to compete in the big ring, how to manage the stables, how to manage the clients and how I sequentially train these horses up the levels. I want to teach others, because well thought out methods for training horses to the top of the sport is becoming a lost art." She explained, "My belief is to have an honest, strong relationship with the horse based on trust. That's what it takes in order to compete horses at the top level. Yes, I need the groom, the eyes on the ground, and a great team, but that trust in the communication between me as the rider and my horse has to be the most important aspect to not only do well, as well as to the longevity and happiness of the horse I'm competing internationally." She affirmed, "I want my apprentices to understand that they must know each horse really well."
Three of the four horses on which Shelly will be competing are owned by Pat Stempel, who also rides several upper-level dressage horses at home on the farm. Danilo was supposed to be one of Pat's horses, but Shelly scooped him up somewhere along the way. Together, Shelly and Pat have achieved the dream and goal of developing an outstanding Loxahatchee, Florida stable. Aside from making an impact with the three horses this year in international competition, they also help others to achieve their goals. This winning team has a wonderful system for success. Shelly said, "I could not be any luckier, absolutely, than to have Pat as an owner."
A special thank you goes to Adequan and other sponsors for the 2015 competitions and the USET for what they have done for all of us.
Text and Photos by Betsy LaBelle
Related Links
Scores: 2015 CDI-W Wellington
European Whitewash at 2015 CDI-W Wellington
American Team Selected for 2014 World Equestrian Games
Photo Report: Snap Shots from the U.S. Pre-WEG Training Camp in Belgium
Shelly Francis Receives Walsh Company Sponsorship