USPREA Breeding News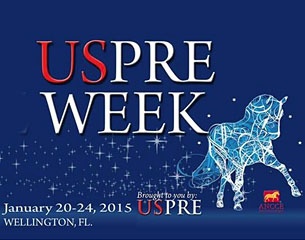 USPRE Week 2015, held in Wellington, Florida, was an unforgettable experience for our members and all PRE lovers! Breeders from around the country came together for a week dedicated to building relationships, gaining knowledge, and showcasing the beautiful and talented PRE Horse.
Some of those in attendance were Bill Taylor and Adrienne LaFar, Jesus Jimenez, Terry Waechter, Shaana Risley, Miguel Coves, Sofie Gates, Marilyn Fahringer, Allessandra Schwartz, Betsy Bougie and Sean Dwyer, Robin and Andrea Landis, Carmen Franco, Dierdre Teasely, Jackie and Liam Cuddy, Amador Alonzo, Felix Reigia,Terry Waechter, Marc Ulanowski and Michael Kohl, Mary Adams, Lee Burton, Belinda Nairn and Bill Wertman, Dianna Rankin, Jeri Caprio, Carolyn Cassano, Jose Pantigoso, Thomas Graff, Jessica Brown, among others.
The PRE Fantasia party lived up to its name! More than 750 people gathered to fill the Global Pavilion for a night of exhibition and musical freestyle, hosted by USPRE President Kimberly Boyer and USEF National Dressage Team Chief, Robert Dover. Following exquisite freestyles by an all-volunteer group of PRE riders, Medieval Times took the stage and brought down the house with an exciting program of High School Equitation and good old-fashioned jousting and rabble-rousing! The evening ended with the artistry of Flamenco, performanced in full authenticity. Special thanks to riders Beatrice Boucher, Chelsea Reed, Kerrigan Gluch, Maria Lithander, Lee Burton, Jacqueline Cuddy, Jessica Jo Tate, Mikala Gunderson, Janne Rumbough, Alexandra Meghi, and Nicholas Fyffe.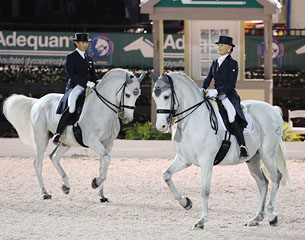 During the days, ANCCE Representatives Pedro Azor of the LG and Ignacio Candau of Yeguada Candau and the ANCCE Executive Committee led various seminars and round-table discussions on Studbook initiatives and the progress of the breed in Spain. They were joined by Jose Daniel Martin Dockx, rider for the Spanish National Dressage Team, in a discussion of the emphasis on dressage for the PRE horse and what is needed to produce a better horse for sport. Attendees were hosted to breakfast and lunch in the VIP tent those days and a front row view of the CDI-W Grand Prix.
On Thursday evening, an elegant dinner at the beautiful International Polo Club in Wellington brought together more than 60 members and the Year End Award Recipients were announced by Vice President Betsy Ketcham and Executive Director Joan Mack. Friday evening's freestyles provided a final chance for members to gather together in private VIP seating provided for USPRE by show management, and all enjoyed the thrilling exhibition ride by Allison Brock on Grand Prix stallion Os-Nervi! USPRE was the Title Sponsor for the CDI-W that week and members were proud to witness PRE history: For the first time in the United States a PRE won an International Grand Prix--. Grandioso III, owned by Hampton Green Farm and ridden by Jose Daniel Martin Dockx, took First in the Grand Prix Special on Saturday night, following a close Second Place a day earlier in the Grand Prix of 35 world-class horses.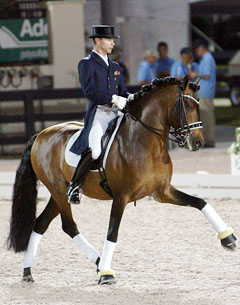 Facebook postings by participants have declared how valuable the week was in terms of interacting with other breeders as well as having direct access to LG staff and ANCCE representatives. At USPRE we predict 2015 to be our best year yet and there is no better way to kick it off then in the company of good friends and PRE lovers at USPRE Week!
Our heart-felt appreciation to all who volunteered and assisted with the week's events
USPRE Staff--Tanya Duffey, Sally Rodriguez and Michelle O'Brien, Joan Mack, Marilyn Fahringer, Tom Reed and Medieval Times Management and Crew, Marc Ulanowski, Nicho Meredith, Jimmy Mandela, Silent Auction Donors, Pedro Azor, Ignacio Candau, Shaana Risely, Charlie Tota, and Gene Freeze
Photos © FriezeFrameFotos@gmail.com
More Photos of the 2015 USPRE Week here.
Related Links
Spanish Delegation to Attend 2015 USPRE Week, Lead Seminars for Breeders
First 2015 USPRE Florida High Point Challenge Brings Out New Pairs
2014 USPRE Night Leaves a Lasting Impression