History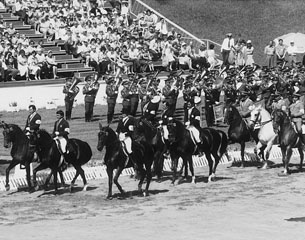 Since their introduction in 1912 the Olympic equestrian Games have had their fair shares of issues for numerous reasons: problems of transport, lack of financial support or bans on warloser Germany. However, never before in their then 68-year old history had Olympic dressage been so much at a pinch as in July 1980.
It seemed that only a handful of riders would compete for Olympic glory when host country, the Soviet Union, needed to 'ask' its sister countries Bulgaria, Romania and Poland to send teams to secure a team class whereas other nations insisted on boycotting those Games. 
A Political Background
The reason for this plight dated back to December 1979. The Soviet Union had sent troops to Afghanistan to support the new communist government. US-president Jimmy Carter was the first to mention an Olympic boycott of Moscow as one possible reaction. After the IOC refused to change the location, the USA decided to boycott the Games completely. Other NOCs followed, amongst them leading dressage nation Germany. Other nations decided to take part despite the fact that their national equestrian federations recommended their riders to boycott the Games. In other cases the riders themselves decided not to travel to the capital of the Soviet Union, such as athletes from Belgium, France, Switzerland, Spain, and Great Britain.
It were not at all undisputed decisions as for some riders it was the only chance to become an Olympian in their lives and they saw their chances robbed for political reasons. Germany's legendary Olympic dressage champion Dr. Josef Neckermann was well aware of this fact as one the German NOC members, who decided for a complete German boycott in the spring of 1980. Shortly before his death in 1992 Neckermann confessed that afterwards he felt guilty having taken away unique chances from sportsmen in his country. Probably many other decision-makers must have felt the same.
The FEI reacted in its own way by providing "Olympic Festivals" as an alternative for all those riders -- the huge majority of the world's elite -- unable or unwilling to go to Moscow. For dressage the picturesque British village of Goodwood, location of the 1978 World championships, was chosen.
Until after the CDIO in Aachen 1980 it seemed that all medal contenders and strong dressage nations would meet in Goodwood to determine their unofficial champion. When it became public that Elizabeth "Sissi" Theurer from Austria would go to Moscow it caused an uproar. The cheerful Austrian had been the first who could beat Christine Stückelberger's Granat after a very long reign, when in 1979 she became European Champion at just 21 years of age. Finnish Kyra Kyrklund, a relative newcomer on the international scene, was the only other West European competitor who travelled to Moscow.
The Olympic Games in Moscow: Tristesse among shiny gold
Since their triumphic victory over Germany at the 1972 Olympic Games in Munich, the Soviet dressage riders struggled to regain a leading position and missed a team medal at the 1976 Olympic Games in Montreal. When a boycott of the stronger nations became obvious, the almost 100% chance of recapturing Olympic gold appeared on the horizon for the host nation.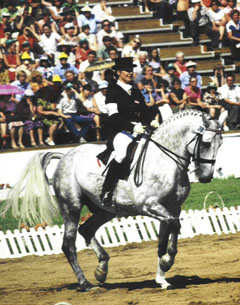 There was only one problem: To get a team medal there needed to be more than just a Soviet team in Moscow! As the countries belonging to the political "west-block" boycotted the Games, the Soviet Union had to stimulate countries from the "east-block" to take part. Those countries  had some international dressage riders for sure, but few really at Grand Prix-level. In the end Bulgaria, Romania and Poland travelled to Moscow to guarantee a team competition. All this logistic maneuvering to guarantee a nations' ranking, led to the fact that Poland, for instance, only found out they were allowed to compete with a team two days before their departure!
In Moscow in the end there was a team class, there were three team medals awarded, but to speak of Olympic level is hard when looking at the results these brave riders and horses got from the highly experienced chief judge Gustaf Nyblaeus and his four colleagues. The judges' panel was challenged in its own way with more horses not able to show certain movements than they would have cared for.
Of the 14 starters in the Grand Prix the clear winner Sissi Theurer on her Oldenburg gelding Mon Cherie (by More Magic xx). Her and the Soviet riders Vera Misevich on Plot, Viktor Ugrimov on Shkval, Yuri Kovshov on Igrok as well as Finnish Kyra Kyrklund on her chestnut Piccolo managed to get more than 1000 points. The Soviet Union won their coveted team gold in the impressive Bitza stadium about 50 km outside Moscow with more than 800 points ahead of Bulgaria and Romania more than 230 points behind the silver medalists.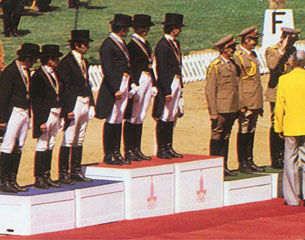 In the Grand Prix Special, in which only two riders of the Grand Prix class were not allowed to take part, the difference became even bigger. Sissi Theurer's gold medal was never in danger and with a classy performance she received 1370 points, almost double as much as the last placed rider from Romania in this individual competition.
It is idle to speculate what would have happened when the Austrian had competed in Goodwood, where Austrians Arthur Kottas-Heldenberg and Robert Schifter did show up. Fact is that Theurer showed a ride worthy for the Olympic Games and for a medal, but fact is also that rarely somebody had so few rivals to fear on her way to the Olympic crown.
Olympic Festival Goodwood: Montreal Reloaded
After interviewing riders who did compete at the "Olympic Festival" in Goodwood, they all confirmed that they felt to have shown against the best in their sport, even though some mentioned that the typical Olympic feeling was missing. Goodwood is a small village in the south of England, with a race-track for horses and one for cars, impressive stone-built stables in which the horses were kept and a beautiful mansion which offered a wonderful backdrop. However it was undoubtedly not at all a place to create a typical Olympic atmosphere without the international hustle-bustle of many other sports.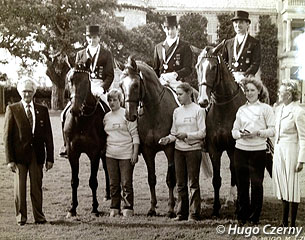 Thirty-two starters took part in the Grand Prix, 18 of them were riders of the six participating teams and 14 individual riders, among them four riders from strong nations such as Germany or Switzerland. Since 1974 World championships Germany's riders had repeatedly and on numerous occasions tried to beat the Swiss pair Christine Stückelberger and her huge Holsteiner gelding Granat (by Consul), but failed continuously until Sissi Theurer proved in Aarhus in 1979 that it was possible.
Before 12 riders could move on to the Special, the team medals were contested. Germany with Uwe Schulten-Baumer Jr. on his Hanoverian, multiple medalist Slibowitz (by Servus), Uwe Sauer on the Trakehner gelding Hirtentraum (by Traumgeist xx) and Dr. Reiner Klimke with his championships-debutant Ahlerich (by Angelo xx) won the undisputed gold medal, even though Germany's second best rider was their individual Gabriela Grillo with her Trakehner Ultimo (by Heros). She had been on Germany's Olympic gold team of 1976.
Just like four years before in Montreal, the winners of the Grand Prix were Christine Stückelberger and Granat. Again they spearheaded Switzerland's successful attempt to win another silver medal after 1976. Uli Lehmann from the Swiss Military Horse Depot in Berne, the surprising 4th of the 1978 World Championships on Widin (by Obelisk), and Amy-Catherine de Bary on her Swedish gelding Aintree joined Stückelberger for the individual contest, which was a clear improvement for the Swiss compared to 1976.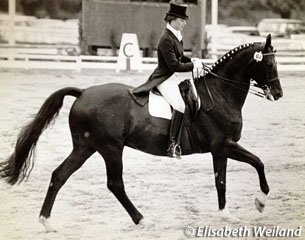 Team bronze was decided between Denmark and France with the better end for the lucky team from Scandinavia. One Danish horse had enchanted all at Goodwood: Marzog (by Herzog), ridden by Anne-Grete Jensen. The always friendly looking bright bay Danish gelding was not only a real "discovery" and the best horse of his team in the Special, but at just 7 years of age the youngest in the whole field.
Four years later he would add a "real" Olympic medal to his impressive career which was still in its infancy in 1980. The Danish team bronze medal was also something special for Tove Jorck-Jorckston with the elegant Lazuly: 24 years after her sister Lis Hartel won an Olympic medal she followed suit, accompanied by former jumping rider Finn Larsen, who like Lis Hartel was a student of the legendary Gunnar Andersen.
In the individual competition it seemed clear from the beginning that the medals would most likely be distributed between Christine Stückelberger and the German riders, even though Jennie Loriston-Clarke on Dutch Courage had a small chance to repeat their bronze medal of 1978.
The 15-year-old Granat, who in fact had his Grand Prix debut at the 1972 Olympic Games in Munich (with no selection trials before hand proven Grand Prix capability in competition), outclassed the rest of the field. With a powerful fresh performance the gelding easily won the gold medal with a 79 points lead over Dr. Uwe Schulten-Baumer Jr on Slibowitz. Ahlerich, this 9-year-old sparkling Westfalian and ull-brother to Amon who competed on the fifth placed Dutch team with Annemarie Keyzer, redeemed himself for the spooky Grand Prix and won bronze. It was the beginning of an amazing career that peaked with double gold at the next Olympic Games and was finished with another Olympic gold eight years later.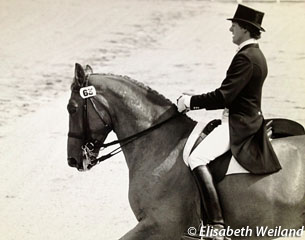 Among the pairs that made the Special there was the young blonde Dutch rider Francis Verbeek-van Rooy on Ivar with whom she had climbed  the ladder from juniors into the senior team, just like her team-mate Annemarie Sanders did with her Westfalian Amon. Now an O-judge Verbeek finished eighth.
The 15-year old French Anglo Arab Vol Au Vent AA probably had the most extraordinary career of all horses competing in Goodwood. This elegant chestnut, ridden by Cadre Noir member Dominique Flament, was retrained from international eventing to dressage only a few years before 1980 and with his 9th place left an impression. Flament became French national trainer at the end of the 1980s and returned to the Olympic Games in this function.
Of the six judges on duty in the Grand Prix and Special (Colonel Donald Thackeray from the USA was replaced by Danish Birte Willer-Hansen in the Special) only the Dutch Jaap Pot had already judged in Moscow before. Great Britain's popular three time dressage Olympian Jook Hall was initially destined to judge in Moscow as well, but had to be replaced by young Danish judge Jytte Lemkow.
Coming up next: the 1980 dressage Olympics how Jytte Lemkow and Christine Stückelberger experienced the events in Moscow and Goodwood.
By Silke Rottermann for Eurodressage.com

Photos - FEI History Hub - Hugo Czerny - Elisabeth Weiland
References
Dieter Ludwig, Reiten-ein olympisches Rahmenprogramm, p. 63/64
Dr. Dietmar Specht, Deutschlands Equipe und Christine Stückelberger, p. 58-61, in: Olympische Sportbibliothek (publisher), Reiter 1980, München 1980.
DOKR (publisher), Wir reiten für Deutschland, Warendorf 2013, p. 179/180.
Related Links
Scores: 1980 Olympic Games
Greatest Oldies: Mon Cherie, The Joyous Gift
Greatest Oldies: Granat, From Ugly Duck to Beautiful Swan
Greatest Oldies: Slibowitz, Germany's Most Reliable Team Horse
Greatest Oldies: Marzog, King of Suppleness