American Dressage News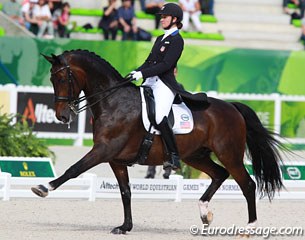 Adrienne Lyle has announced that she has retired the 16-year old Oldenburg gelding Wizard from competition. Owned by Peggy and Perry Thomas, Wizard was a U.S. Dressage team horse at the 2012 Olympic Games and 2014 World Equestrian Games.
The bay Wizard (by Weltmeyer x Classiker) was discovered as a youngster by Belgian Stefan van Ingelgem, who competed him at the 2004 World Championships for Young Dressage Horses in Verden, Germany, where he finished 19th in the consolation finals.
The horse sold to the U.S.A. and Lyle's coach Debbie McDonald trained Wizard up to Prix St Georges level. In 2007 she gave the ride to her assistent trainer Adrienne Lyle.
The young duo achieved its first big success when they became the 2008 U.S. Under 25 Champions by winning the Brentina Cup Finals at Gladstone. They won the Freestyle at the 2009 U.S. Senior Grand Prix championships but then disappeared from the scene until their come back in August 2011.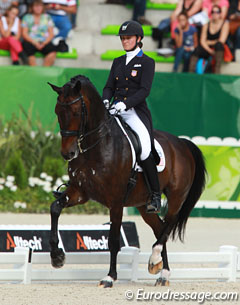 Wizard struggled with injuries, but always managed to return to fitness. Their first major highlight came when they represented the USA at the 2012 Olympic Games in London. They were out for entire 2013, but returned in the winter/spring of 2014 to contend for a team spot for the 2014 World Equestrian Games, which they earned after proving consistency at shows in Europe.  Lyle and Wizard helped the U.S. achieve a fourth place in the team ranking in Caen, France.
After the World Equestrian Games Lyle has not shown Wizard. She and her coach are currently in Florida for the winter show season, but Wizard will no longer appear in the competition ring.
"Wizard enjoys being turned out and goes in turnout daily. One day this winter after coming in to be ridden, he just didn't feel right. After having our vet here in Florida evaluate him, it looks to be a strain in a suspensory," Lyle stated.
"Everyone involved in Wizard's life wants his health and happiness to be our number one priority," Lyle explained.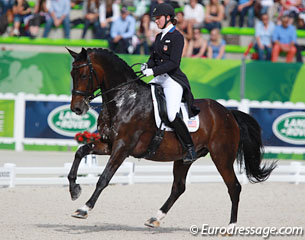 "The Thomas family, Debbie McDonald and I made a decision that we would not push Wizard's rehab to be ready to try for the World Cup Final this year. Given Wizard's age, we have made the decision to get him happy and comfortable and give him the retirement he deserves.
Wizard will be spending the rest of his days in retirement at River Grove Farm in Sun Valley, Idaho.
"I am eternally grateful to all of those involved in Wizard's career for allowing me to have this amazing journey with him," said Lyle.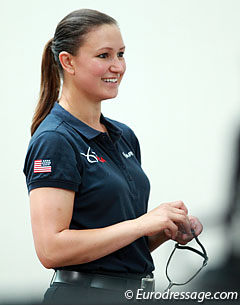 With ten horses in training in Florida, Lyle stay very busy in the saddle post-Wizard. She is currently focusing on developing Pam Jones' 7-year old Dutch bred Harmony's Duval (by Rousseau out of Uptown Girl) for Grand Prix, as "he shows great talent for the piaffe and passage work and has a wonderful mind."
Lyle told Eurodressage that she's not keen on showing young horses in competition but prefers waiting until they reach FEI level. "Personally I like to spend more time focusing on the training of the young horses than their showing," she said. "I prefer to wait and bring them out a higher level, but still take them the shows to school and get used to the environment."
While Lyle might not be seen in the show ring straight away, she will certainly be spotted on the sideline. "I also have several clients with us down here this year, that made the trip from Idaho, and I will be helping them this season as well. So I am keeping quite busy, as I look to future and try to develop more top horses," she said.
Photos © Astrid Appels
Related Links
Eurodressage Photo Database: Wizard
Adrienne Lyle Wins Gold in Individual Nations Cup Competition at 2014 CDIO Wellington
U.S. Olympian Adrienne Lyle and Wizard Return to the Show Ring After One Year Break
Adrienne Lyle and Pierre St Jacques Win Big at 2012 Global Dressage Festival
Wizard Conjures up His Second Grand Prix Win at 2011 Dressage at Devon
The Return of Adrienne Lyle
Adrienne Lyle Wins 2008 American "Brentina Cup" Championship