2015 CDIO Vidauban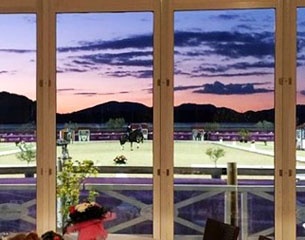 The 2015 Vidauban Dressage Festival is promising to be one of the biggest dressage extravaganzas of the early international spring show season in Europe. With a CDIO 3* FEI Nations' Cup event and the CDI 5* World Dressage Masters as well as international and national classes from pony and children's level up to Under 25 and Grand Prix, Bernadette Brune's Domaine Equestre des Grands Pins in Vidauban, France, will be the place to be for any ambitious dressage competitor.
The Vidauban Dressage Festival kicks off on 4 - 8 March 2015 and continues back-to-back the week after with more action on 11 - 15 March 2015. Located near St. Tropez, Vidauban is a central access point for top level equestrian competition and high society leisure time at the  French riviera.
World Class Competition
The 2015 FEI Nations' Cup series will have its first global instalment in Vidauban where the show circuit kicks off, followed by Wellington, Rotterdam, Aalborg, Hagen, Falsterbo and Hickstead. Numerous dressage countries in the world will be sending teams of three or four riders to contest the nations' competition in the Grand Prix in which points can be earned for a global ranking.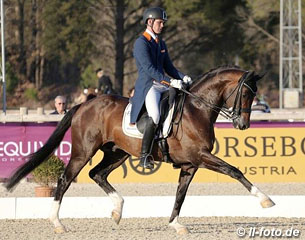 During the first CDIO weekend there will also be a special French "challenge." The three best performing French riders in the international classes will get a special financial bonus if they achieve a score over 66%.
The 2015 CDI 5* World Dressage Masters will bring the world's best dressage riders down south to compete in the 5* Grand Prix, Special and Kur to Music. Riders will be dividing an impressive purse of 90,000 euro based on their scores! Renowned dressage athletes such as Charlotte Dujardin, Carl Hester, Michael Eilberg, Fabienne Lutkemeier, Matthias Alexander Rath, Patrik Kittel, Valentina Truppa, and Diederik van Silfhout are only a few names of the top riders that have competed in Vidauban before!
An important aspect of a high quality dressage show is lining up the best judges in the world. During the two competition weeks, Vidauban will have no less than seven 5* star judges in action. Riders will get ample opportunity to achieve  qualification scores for the upcoming  European Championships across the levels. Youth riders can get their horses acquainted with the show grounds early as Vidauban will host the 2015 European Junior and Young Riders Championships on 1 - 5 July 2015.
The Vidauban VIP Feeling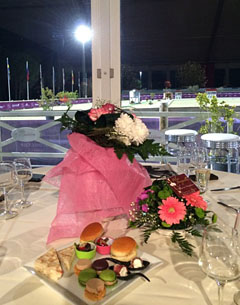 The Vidauban Dressage Festival at Domaine Equestre des Grands Pins will be a memorable experience for rider, horse and spectator. Outstanding stabling in permanent stalls is available for the horses. Seven outdoor arenas, a 65 x 25m ultramodern indoor school, two racetracks, a covered horse walker, three solariums, numerous paddocks and miles of bridlepaths are there for the riders. The fully tarmaced lorry park provides individual electricity and water connection for each truck. Spectators can sit in the covered dining area, lounge or VIP lodge. 
This year the Festival will be a complete mega event with the show striving to achieve new levels of experience. Riders and spectators will be treated to "theme gala evenings" with live band music and special awards for the best rider, best groom, most elegant seat, etc. Everybody can be a winner in Vidauban! This show will be the perfect place to build your social and business network.
Bernadette Brune, the Power Behind Vidauban
Vidauban show organizer Bernadette Brune is staging the Vidauban Dressage Festival for the sixth, consecutive year. Her dedication to bring a show "for riders by riders" is admirable. Fulfiling all needs and requirements of the high performance athlete, the Vidauban Dressage Festival is a fixture on the calendar of any serious competitor.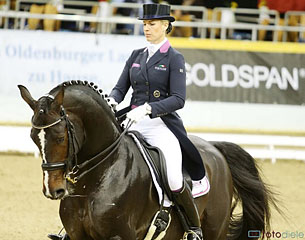 The Vidauban Dressage Festival provides the most complete programme throughout the levels of all shows in Europe: from young horses, to pony and chilren's classes, to junior and young riders. There is a small tour, a medium tour, a developing Prix St Georges and Grand Prix horse class, the Under 25 Grand Prix level tests and a big tour for senior Grand Prix riders. It will be the perfect show to start the outdoor season.
Knowing that it can be tricky for horses to switch from the indoor to an outdoor show atmosphere, Brune welcomes riders early before the show has even started. Competitors can arrive one week or even earlier to train and familiarize their horses to the show grounds. The facilities are accessible all year round in case riders wish to make Vidauban as a lay-over station or spring-summer training facility during their holidays.
"We constantly try to improve the competition in Vidauban to answer to all the wishes of the riders," said Bernadette Brune. "So many riders return year after year because they are happy about the service we provide, the quiet and professional show experience we offer as well as the good stabling and footing, which we all consider the most important for our horses. I'm an international dressage rider myself so I know what I want and I try to learn from my own experience so I can be proud to be the host of one of the best shows in Europe!"
For more information, visit www.domaine-equestre.com