2015 New Zealand Young Riders Championships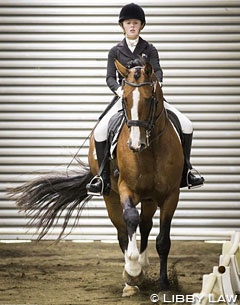 Young Rider Catherine West and Under 25 young Grand Prix rider Anya Noble claimed the title and trophies at the 2015 New Zealand Young Riders Championships held in Hawera, New Zealand, on 14 - 15 January 2015.  Hawera turned on superb weather and the venue was well prepared and resourced at the Egnont A & P Showgrounds.
A ton of new talent was showcased at the 2015 New Zealand Pony & Young Rider Dressage Championships over two days.
The 20-year old Anya Noble took over the ride on her father Bill Noble's Grand Prix horse Airthrey Highlander and won the Under 25 Grand Prix class with a 65.194% score. As sole competitor in the Under 25 division, Noble freewheeled to victory. In the Kur to Music she posted a score of 68.083%. The Waikato based Noble was the first rider to ever win the Under 25 NZ Championship. 
A student at Otago University, Anya described her win as "amazing and exciting" and gives huge credit to the kind and generous nature of Bowie who was a latecomer to the dressage scene after a stable injury bought to a halt a very successful showjumping career. "I hope that other young riders can aspire to ride Grand Prix and that they know it is possible to look beyond Advanced Level and CDIY," she said.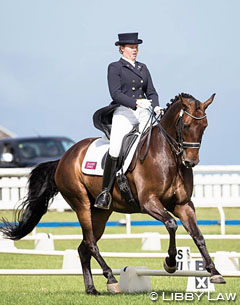 At regular FEI Young Riders level eight combinations contested the classes for national honour.  New Zealand's 2014 Young Rider Champion Catherine West dominated with her two horses, the 11-year old NZ bred Hanoverian gelding Anarocz (by (Anamour x Lavinsky xx) and the 9-year old NZ bred Hanoverian x Thoroughbred cross Amici II (by Anamour x Magic of Sydney xx). She won the Prix St Georges on Anarocz with 70.526% and finished second with Amici II on 67.851%. The PSG was judged by Anne Tylee, Felicity Dobell-Brown and Myra Friend.
The Young Riders Kur to Music featured ten combinations and was judged by Helen Hughes-Keen, Jan Bird and Mura Love. The threesomeput West on Anarocz first with 70.417%. She finished second again on Amici II with 68.148% and Lucarne Dolley climbed up to third place with the 19-year old New Zealand Thoroughbred Grand Prix schoolmaster Mzungu on a score of 66.296%.
Photos © Libby Law
Results - 2015 New Zealand Young Riders Championships
Prix St Georges
1. Catherine West - Anarocz - 70.526
2. Catherine West - Amici II - 67.851
3. Mikayla Woods - Ramsbury - 64.693
4. Lucarne Dolley - Mzungu - 63.158
5. Natayla Waakes - Kinnordy Gym - 62.895
6. Sarah Wadworth - Faemoss BW - 60.000
7. Caitlin Benzie - Rosari Royal Gem - 58.772
8. Rhiannon Scott - Oporae's Antoinette - 57.895
Kur to Music
1. Catherine West - Anarocz - 70.417
2. Catherine West - Amici II - 68.148
3. Lucarne Dolley - Mzungu - 66.296
4. Natalya Weekes - Kinnordy Gym - 64.306
5. Mikayla Woods - Ramsbury - 64.259
6. Caitlin Benzie - Rosari Royal Gem - 64.028
7. Sarah Wadworth - Faemoss BW - 61.204
8. Rhiannon Scott - Oporae's Antoinette - 60.880
9. Charlotte Grant - Classique Sofia FE - 59.907
10. Zoe Towler - Berry Rich - 54.167
Related Links
Catherine West Wins 2014 New Zealand Young Riders Championships
Kate Welten Retains Title at 2013 New Zealand Young Riders Championships
Kate Welten Wins 2012 New Zealand Young Riders Championships
Kate Welten Crowned 2011 New Zealand Young Riders' Champion
Georgia Worth, 2010 New Zealand Young Rider Champion
Appleton, 2009 New Zealand Young Rider Champion
Hannah Appleton wins 2007 New Zealand Young Rider Championship
Airthrey Highlander, a Clydesdale Crossbred at Grand Prix in New Zealand