Verden Auction News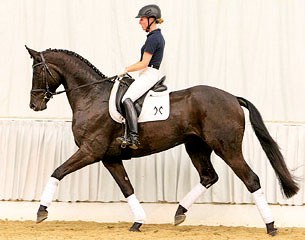 The first Hanoverian auction in Iran was held on Thursday evening 11 December 2014 near Teheran. Six dressage horses and eleven show jumpers were sold for an approximate average price of 50,000 euro.
The Hanoverian society was the organizer of the auction in co-operation with a partner.  Ali Hojabr, official representative of the Hanoverian society in Iran, hosted the auction at his spacious equestrian facilities.
Such an event has been unknown so far in Iran, and it thus generated a great deal of interest nationwide. Aim of the project was to sell Hanoverian horses at an auction in a different cultural environment. Besides this innovative approach, the event was also meant to serve as marketing measure to make the Hanoverian brand more popular in Iran. The people in Iran have a great passion for equitation.
Breeding and business Mmanager Dr. Werner Schade has been preparing this project together with the partners since May this year.
Sixteen horses were chosen at the Verden auctions that were presented by the Verden auction team under the supervision of Jorg-Wilhelm Wegener. The audience was impressed by the performances and rewarded the riders with repeated spontaneous applause. There was a brilliant atmosphere in the amazingly prepared riding arena.
The six dressage and eleven show jumping horses were sold for approximately 50,000 euro each. Well-known and renowned training and show stables from all over the country purchased the futurity prospects. As this was a very successful start, it is scheduled to continue the co-operation in 2015.
The top selling dressage horse was Hermes, a 4-year old gelding by Hochadel x Waikiki. He sold for 69,444 euro.  Other dressage horses in the collection included Don Chicco (by Demirel x De Niro), Lacado (by Londonderry x Wolkentanz) and Figaro (by Furst Nymphenburg x Metternich). The average price for a dressage horse was 48,148 euro.
Photo © Tammo Ernst