KWPN Breeding News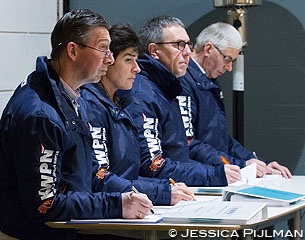 Twenty-three out of a collection of 58 presented stallions were accepted to move on to the second viewing based on their presentation of the third preselection day for the 2015 KWPN Stallion Licensing. The pre-selections of the dressage colts are held this week in Ermelo, The Netherlands.
Charmeur was the best represented sire today with nine sons picked for second viewing. The KWPN licensing committee includes Wim Ernes, Marian Dorresteijn and Reijer van Woudenbergh.
"It was a very satisfying day for us with a good group on average," said Ernes. "This morning on hard surface there were few remarks and we were able to select well during the in freedom phase. It stands out that the conformation of the Charmeur offspring is 'sharper' this year. The selected sons could also impress with their movement. We also saw two good sonds by Cachet, who didn't breed that much compared to Charmeur. This also counts for the son by Chagall which we picked for the next round."
While Charmeur dominated the pack, two offspring by Bretton Woods (by Johnson, Amazing Star (by Flemmingh) and the now gelded Andretti (by Special D) were selected.
The 23 selected stallion on the third pre-selection day are:
H (by Amazing Star x San Remo)
Hessel (by Amazing Star x Jazz)
Hero Z (by Andretti x Havel)
Holandri TC (by Andretti x Gribaldi)
Histalent (by Armani x Kennedy)
n.n. (by Zack x De Niro)
Hunter K (by Bojengel x Goodtimes)
Handsome B (by Bon Bravour x Krack C)
Hollywood SL (by Bretton Woods x Goodtimes)
Brilliant (by Bretton Woods x Diamond Hit)
Hashdeck (by Cachet L x Montecristo)
Humberto L (by Cachet L x Haarlem)
Hilltop (by Chagall x Tuschinski)
Hardwell (by Charmeur x Krack C)
Haakon (by Charmeur x Kennedy)
Hummer OLT (by Charmeur x Sandro Hit)
Hilton TC (by Charmeur x Gribaldi)
Humphrey Sollenburg (by Charmeur x Elcaro)
Händel (by Charmeur x Ferro)
Hercules E (by Charmeur x Sir Sinclair)
High Five (by Charmeur x Negro)
His Royal Badness (by Charmeur x Havidoff)
n.n. (by Danone I x Hohenstein)
Related Links
Thirty-One Colts Accepted on Second Pre-Selection Day for 2015 KWPN Stallion Licensing
Nineteen Colts Accepted at First Pre-Selection Day for 2015 KWPN Stallion Licensing