2014 CDI-W Stockholm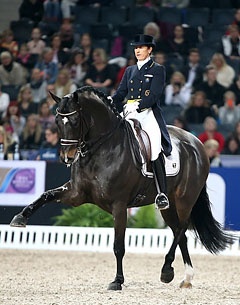 Tinne Vilhelmson-Silfven steered Don Auriello to victory in the fourth leg of the  World Cup Dressage 2014/2015 Western European League at Stockholm in Sweden on 30 November 2014. In the Grand Prix it was Hans Peter Minderhoud who came out on top with Flirt when posting a personal best score. In the Freestyle however the Dutchman had to settle for runner-up spot while Sweden's Minna Telde and Santana sealed third spot.
"I'm really pleased" said six-time Olympian Vilhelmson-Silfven this afternoon. "He (Don Auriello) was in over-drive yesterday in the Grand Prix because this is our first show since the World Championships and he was a feeling a bit too happy! Today I was maybe a little bit careful, but anyway I'm delighted with our result!" she said.
New venue
The fixture was staged at a new venue, the Friends Arena which is the Swedish national football stadium located just north of the city of Stockholm. With its retractable roof and vast amount of space it converted into an excellent equestrian sports arena that accommodated a wide range of activity throughout this week's Swedish International Horse Show, including a thrilling indoor cross-country competition.
The atmosphere for dressage is always expected to be considerably more reserved, but the home crowd couldn't contain their delight with Minna Telde's performance from the great Santana who really turned on the style. The 13-year-old horse is always a favourite for the courage he has shown since losing an eye following an accident some years ago. And with a Christmas-themed musical score and a real spring in his step he strutted his way through a lovely test that finished with his rider doing one-handed passage up the centre line to the rhythm of spectator's applause. When the judge's score of 75.550 went up on the board there was an even bigger explosion of excitement, but there was plenty more to come.
Fourth-last to go was Vilhelmson-Silfven, and the elegant Don Auriello raised the bar by a long margin when earning a mark of 80.875 as three of the four Ground Jury members put the pair in pole position. And Grand Prix winners, Minderhoud and Flirt, couldn't out-do them this time, posting 79.250 for runner-up spot. 
Very happy
"I've scored 84 before in Freestyle so this isn't our biggest result ever, but I'm very happy!" said Vilhelmson-Silfven afterwards. The 47-year-old Swede spent much of last winter in America, and she's planning to do the same this time around. "I'm leaving for Florida on 21st December again so I'm not sure about qualifying for the Final" she pointed out. "I can only count one World Cup qualifier over there and I missed Odense (the first leg of the current Western European League series) so I'm not sure it's going to happen," she explained.
Second-placed Minderhoud said he was very pleased with his ride today. "I knew it would be difficult to beat Tinne if she was on form, even though I made no mistakes" he pointed out. Talking about Flirt he continued, "he is very easy to train and not spooky so that always makes them easier to deal with", and he's hoping to make it to the World Cup Dressage Final 2014/2015 in Las Vegas, USA next April. "I'd really like to get there, but only three riders from each nation can compete and we have quite a few good ones!" he said.
Reaction
Minna Telde was delighted with the reaction of the crowd today. "Yesterday Santana was more tense but today he stayed calm and listened to me. This new music is great and I will ride it again in London if I can" said the 39-year-old who, however, definitely doesn't have the Las Vegas Finals in her sights as she is expecting a new addition to the family next April.
Today's winner was also very pleased with the result achieved by young German rider, 20-year-old Sonke Rothenberger, who lined up fourth with Favourit, a horse she took to two European Championships before selling it on to the German family two years ago.
"I'm very happy that Sonke is doing so well with him (Favourit) and that he is in a good place and being well cared for" Vilhelmson-Silfven said.
Meanwhile Minderhoud has now moved up to fifth in the World Cup Dressage 2014/2015 Western European League standings which are headed by Germany's Fabienne Lutkemeier followed by two-time champion Adelinde Cornelissen from The Netherlands who shares second place with Denmark's Agnete Kirk Thinggaard and Germany's Jessica von Bredow-Werndl.
Related Links
Scores 2014 CDI-W Stockholm
Eurodressage Coverage of the 2014-2015 World Cup show circuit