2014 CDI-W Stuttgart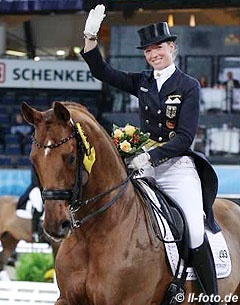 Fabienne Lutkemeier and D'Agostino headed a German whitewash as home riders claimed the top four, and five of the top six places, at the third leg of the World Cup™ Dressage 2014/2015 Western European League at Stuttgart on Saturday 22 November 2014.
In a competition filled with quality performances, Jessica von Bredow-Werndl finished a close second with Unee BB ahead of Isabell Werth and Don Johnson NRW in third, while Dorothee Schneider completed the top-four clean sweep for the host nation when next in line with Forward Looking. Only Holland's Danielle Heijkoop and Siro managed to break the German grip at the sharp end of the leaderboard when slotting into fifth ahead of Sonke Rothenberger and Favourit.
Lutkemeier was delighted with the result which has promoted her to the top of the World Cup Dressage Western European League table. "It was a great competition and there was a big atmosphere in the arena today, but D'Agostino felt really good and controlled and focused" said the 25-year-old who hails from Paderborn in Germany.
Registered their approval
The Stuttgart spectators are always a knowledgeable bunch and, just before the judging break at the halfway stage, registered their approval when Finland's Terhi Stegars and Axis TSF went into the lead on a score of 76.350. This horse-and-rider combination have a unique appeal that includes a very definite "cuteness" factor, and after a long career together they work in great harmony and are crowd-pleasers wherever they go.
They stayed out in front until overtaken by the former Tinne Vilhelmson-Silfven ride, Favourit, with young German star, Sonke Rothenberger, in the saddle. The tall 20-year-old, who has enjoyed phenomenal success at Pony and Young Rider level, coasted in with a mark that was almost 0.5 better, but his lead wouldn't last long as next in was fellow-German Dorothee Schneider, who produced a calm, confident and compliant test from the aptly-named mare Forward Looking for a score of 79.475.
Isabell Werth's Don Johnson FRH was unsettled at times, yet produced some lovely work to post a new lead-score of 79.500 when next into the ring, and when the Dutch duo of Heijkoop and Siro were awarded 77.325 then only two more stood between two-time FEI World Cup™ Dressage champion Werth and her first victory of the 2014/2015 season.
Played out
However the real battle was played out between the last two contenders, von Bredow-Werndl and the 13-year-old Unee BB throwing down 80.375 with a demanding floorplan that began with a double canter-pirouette and which was unrelenting to the very end. The Stuttgart crowd went wild with delight when the result flashed up on the scoreboard, and Lutkemeier and D'Agostino were greeted by that wall of sound as they began their preparation when last to go.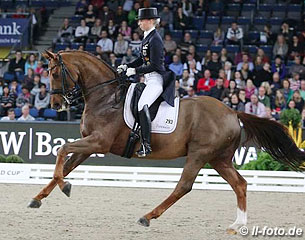 But nothing would get in their way today, the 14-year-old gelding remaining rock solid and fully concentrated on his job despite the excitement going on around him. At the second leg of the series in Lyon, France last month the pair had to settle for runner-up spot behind The Netherlands' Adelinde Cornelissen and Parzival, but today would be their day as they surpassed their German counterparts by 0.225 percentage points to take the win.
"After winning the Grand Prix yesterday I was just hoping we could do it again today, but I knew it would be difficult" said Lutkemeier whose career-highlights to date already include team gold at the FEI European Championships in Herning, Denmark last year and at the World Equestrian Games™ 2014 in Normandy, France this summer.
Asked if she has the World Cup Dressage 2014/2015 Final now in her sights, the German rider said "it would be a dream to go to Las Vegas, but we will wait and see how the season goes. Danny (D'Agostino) will take a break now until Christmas and come back into work again in the new year and we will take it from there" she pointed out.
More difficult
Runner-up, Jessica von Bredow-Werndl, said "yesterday was more difficult. I was so happy with my piaffe as well as other key elements but maybe wasn't as focused with my canter work as I should have been, and that is why I made the mistakes I did. Today, there were some small communication problems but that is absolutely normal and it can happen. I am really pleased with him" she said of Unee BB, "and the audience were absolutely fantastic - it was brilliant!"
 
Third-placed Isabell Werth joked afterwards that it was time for her 12-year-old horse, Don Johnson FRH, to do a bit of growing up. "Johnny was a bit naughty, he was playing with me a bit. That is his character anyways, nothing new, that is Johnny for you! He has a few more competitions ahead of him and it's time for him to become more serious, especially when you bear in mind this is the horse I will be taking with me to the Final. The atmosphere in Las Vegas will be similar to here, with crazy spectators, so I need to do my best to get him back to earth before then!"
Photos © LL-foto
Related Links
Scores 2014 CDI-W Stuttgart
Eurodressage Coverage of the 2014-2015 World Cup show circuit