USPREA Breeding News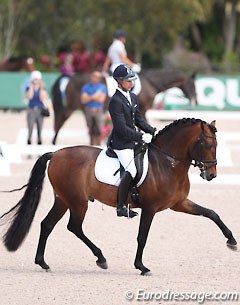 The United States PRE Association (USPRE) is pleased to announce the winners of the inaugural Copa USPRE, and the USPRE Dressage Team for 2015.
The Copa USPRE is a national Breeder's Cup Dressage Championship for the FEI levels, similar to the successful Copa ANCCE in Spain. Riders and horses are ranked nationally at the FEI 5 and 6 Year Old levels, Para, Small Tour and Large Tour once they have met certain minimum requirements. Champions and Reserve Champions are determined by an average of scores earned at rated national and/or international shows and receive automatic invitations to participate in the Copa ANCCE Finals at SICAB in Spain. Additionally, the roster of Champions and Reserves make up the USPRE Dressage Team for the coming year, during which each pair will receive a sponsorship from USPRE.
In this first year, over 40 pairs from around the country signed letters of declaration to compete for the Copa USPRE, and the winners posted competitive scores at their respective levels. USPRE is proud to promote the American riders and PREs who are representing our breed at these high levels in open competition. We congratulate each for their success this past year.
 
BIG TOUR—Grand Prix
1.  Os-Nervi        Allison Brock                    Claudine Kundrun          70.58   CHAMPION
2.  Junior             Janne Rumbough            Janne Rumbough            65.88   RESERVE
 
SMALL TOUR—PSG/I-1
1. Police              Stacey Hastings                Coves Darden Farm       67.99 CHAMPION
2. Malcarat         Jacqueline Cuddy            Jacqueline Cuddy            67.3 RESERVE
3. Fetichin          Nicole Harrington           Pamela Nelson                 66.72 RESERVE
 
FEI 6 YEAR OLD
1. Fiero HGF      Nicholas Fyffe                                  Nicholas Fyffe                  70.7  CHAMPION
 
FEI 5 YEAR OLD
1. Aragon GAF   Felicitas von Neumann-Cosel    Cynthia Roberts               74.5 CHAMPION
2. Brioso HGF    Andrea Landis                                  Andrea Landis                  69.7 RESERVE
 
PARA EQUESTRIAN
1. Kamiakin       Susan Treabess                                Katie Hill                             71.07 CHAMPION
Related Links
USPRE Dressage Committee Introduces New Initiative for FEI Riders: the COPA USPRE
2014 Copa USPRE Season in Full Swing