2014 U.S. Dressage Finals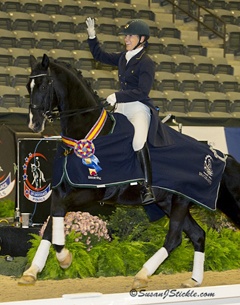 The first championship honors were awarded on Friday 7 November at the 2014 US Dressage Finals at the Kentucky Horse Park in Lexington, Ky.  This spectacular competition being held from November 6 - 9, 2014 in four championship arenas has brought together the top dressage riders and horses from across the United States to ultimately honor a new generation of Adult Amateur and Open division champions from Training Level to Grand Prix.
Mette Rosencrantz of Topanga, Cal. was grinning from ear to ear as she accepted congratulations for becoming the first Finals champion crowned in 2014.  Her long journey all the way from the West Coast ultimately proved worthwhile as she guided Anne Solbraekke's elegant black Hanoverian gelding De Noir (by De Niro x Matcho) to a resounding victory in the Open Intermediate I Championship, earning the unanimous win under all three judges for a total score of 72.632%.  "I saw all the other riders warming up, and I thought, 'uh oh, I'm going to have to go for it because everyone's really really good,'" said Rosencrantz.  "But my horse was great in the ring and handled the atmosphere with no problem.  It's a long way and a long time away from home, but everyone has gone out of their way to make us feel welcome here.  The setting is great, and it's really fun to come ride at a show like this."  Finishing in Reserve was Susanne Benne aboard Zonnerhall (Dutch Warmblood [by Gribaldi] owned by Toni Pastermack) with on a score of 68.816%.  Benne recently obtained her U.S. citizenship and became eligible to come to the Finals, and happily traveled from Satellite Beach, Fla. (Region 3) to participate.  "I definitely think it's worthwhile to come here, even from a long distance," Benne noted.  "Having so many excellent riders and horses here makes it all even more special."
Region 2's Jacqueline Beasley may have only had a 15-minute drive from her home in Lexington to the Finals, but her journey to winning today's Intermediate I Adult Amateur Championship has been much longer.  She purchased her now 11-year-old Hanoverian gelding Winston (by Worldly) as a three-year-old in Germany and together the pair has risen through the levels, culminating in today's winning ride with a score of 67.632%.  "I never thought we'd come so far," said Winston.  "Even though I live here and I've shown at the Horse Park before, I've never had the opportunity to show in the Alltech Arena.  During yesterday's schooling session, he was very impressed by the atmosphere so I was concerned going in the arena today.  But he rose to the occasion, was so perfect and answered all my questions.  He gave me a lovely ride today and I couldn't have asked for anything more. "  Lauren Thornlow and her Oldenburg gelding Royal Konig had to trek 2500 miles with friends and their seven horses from Monroe, Wash. (Region 6) to earn Reserve Championship honors (67.193%), but she was happy to have made the trip.  "I've never hauled this far for a show before, but it's been a great experience for all of us," she said.  "I had a great ride today with my horse - he's put the right foot forward every step of the way on this journey."
 
Despite being only seven years old, the talented Oldenburg mare Elfenfeuer carried owner/rider Alice Tarjan of Frenchtown, N.J. (Region 8) to victory in the Grand Prix Adult Amateur Championship with 68.133%  "We still have a lot to learn, but I think this level suits her and she's a good girl and tries hard," said Tarjan.  "I haven't been here at the Horse Park since coming for a Pony Club event about 20 years ago, and it's absolutely gorgeous.  These Finals are such a big event, and it's exciting and inspiring to be here."  Janne Rumbough's gray PRE gelding Junior (by Gaucho III x Brioso VI) literally bucked for joy during the victory lap in celebration of his Reserve Championship honors after earning a score of 65.000%.  Rumbough returned to the Finals from Palm Beach, Fla. (Region 3) after earning the same title last year.  "I had a wonderful time in there.  I've brought him through every level, and he's proof that the test system works," she said of her longtime partner.  "I thought he was even better than last year, and I'm just happy and feel lucky to be here. "
A huge crowd gathered at the Alltech Arena for a "Taste of the Bluegrass" dinner and evening festivities including opening ceremonies and special presentations followed by Grand Prix championship competition.  Topping 20 other competitors for the nation's top honors in the Open division, Diamante Farm's black Danish Warmblood gelding Destiny lived up to his name as he carried Wellington, Fla.'s Devon Kane (Region 3) to victory with an impressive score of 72.000%.  "It's very exciting, especially since I didn't even expect to come here," explained Kane.  "But after we won at Regionals we said, 'why not'.  It's a wonderful opportunity to ride with great competition and fantastic judges in a tremendous venue, and it's really fun to see everyone from all over the country.  We had a great ride and he was so 'on' tonight."  Last year's Intermediate I Open Champions Emily Miles (La Cygne, Kan., Region 4) and her American Warmblood stallion WakeUp (Wagnis x Macho) successfully made the jump up to the Grand Prix level, earning Reserve Championship honors on a score of 69.067%.  "This is just our fifth Grand Prix test together, and I couldn't be happier with him," said Miles of her partner.  "He handled the electric atmosphere like it was no problem - he was just a rock star through the whole thing, so solid and easy."
Text by Jennifer Keeler - Photo by Sue Stickle
Related Links
Heglund Wins on Opening Day of 2014 U.S. Dressage Finals
Dramatic Increase in Nominations For 2014 U.S. Dressage Finals
Regional Qualifying Off To a Strong Start for the 2014 US Dressage Finals