2014 CDI-W Lyon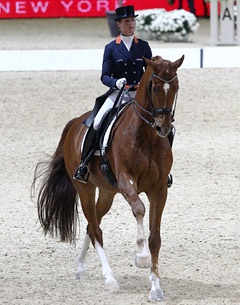 The great Dutch master, Parzival, claimed maximum points for The Netherlands' Adelinde Cornelissen at the second leg of the World Cup Dressage 2014/2015 Western European League in Lyon, France on Friday evening 31 October 2014. The 17-year old big chestnut gelding who carried his rider to a double of series victories in 2011 and 2012 and who was runner-up at the opening leg of the series in Odense, Denmark two weeks ago, produced a lovely performance to post the highest score of 80.300 in the Grand Prix Freestyle.
But the Dutch duo, who also claimed team and individual Freestyle bronze at the  World Equestrian Games™ 2014 in Normandy two months ago, were closely followed by Germany's Fabienne Lutkemeier and D'Agostino FRH in runner-up spot while another former World Cup™ Dressage double-champion, Germany's Ulla Salzgeber, slotted into third with Herzruf's Erbe. 
There were some very bright lights shining tonight, with an eye-catching performance from fourth-placed Danielle Heijkoop and Siro for The Netherlands and a strong result for Sweden's Patrik Kittel partnering the promising 10-year-old mare Deja who finished fifth.
Perhaps the biggest surprise of the season so far, however, has been the emergence of Denmark's Agnete Kirk Thinggaard and the 11-year-old Jojo AZ as a real force to be reckoned with. The pair, who finished fourth in the Danish Championship earlier this year, lined up sixth in round one at Odense, and they showed that was no fluke when doing exactly the same this evening when, once again, they left some very big names in their wake.
Such is their success-rate of late, that they now share the top of the Western European Leaderboard alongside tonight's winners with a total of 37 points to date. 
Sporting ambition
The Danish rider combines her sporting ambition with a great deal of common sense, and the 31-year-old, who has only returned to competition after an eight-year absence while rearing her three young children, set tonight's first serious target with a mark of 77.400 when last to go before the judging break.
Together, Thinggaard and Jojo AZ presented a Freestyle that was a pleasure to watch, including rock-solid piaffe, seamless transitions and tremendous symmetry with the musical score. Last time out they finished sixth behind Hans Peter Minderhoud and Flirt. Tonight the Dutch pair had to settle for ninth place despite some very nice work from the 13-year-old.
And Thinggaard remained at the head of affairs until Patrik Kittel threw down a mark of 77.850 with Deja, thanks in no small measure to the Swedish rider's proficient production of clockwork passage. With three now left to go, Germany's Salzgeber raised the bar when posting 79.325 with Herzruf's Erbe, the horse with which she finished third at the Final in Leipzig, Germany in 2011. But she was immediately demoted by Cornelissen and Parzival who bounced through their always-captivating routine and finished with their usual flourish to score 80.300.
Only Lutkemeier and D'Agostino could spoil their party now, and the German pair very nearly succeeded when earning a mark of 80.050 for a lovely test during which the 14-year-old gelding maintained an attractive outline.
Lutkemeier and her horse have enjoyed a great year, following team gold at the European Championships in Herning, Denmark in 2013 with team gold at this summer's World Equestrian Games™.  And the rider, who was reserve for the London 2012 Olympic Games, particularly enjoyed her success tonight as it came just three days after her 25th birthday.  "D'Agostino gave me the best birthday present!" Lutkemeier said. "He was really super. He hadn't done a Freestyle since last May, at the German Championship, so I'm really happy with how we finished! I rode the Special all the time coming up to Caen, but I always love competing in Freestyle and I was happy with him the whole way through his test today" she added. She continued, "this is his first show indoors and he was really concentrated, really good in the flying changes and the pirouettes particularly - I'm very, very happy!" 
Reflected
Cornelissen meanwhile reflected on how things turned out for her over the last few days. It wasn't completely plain-sailing with Parzival under the Lyon lights. "I know he is very experienced and really knows his job, but he was quite spooky yesterday in the Grand Prix and not full of confidence. I think the light in the arena was a bit different or something, but he turned into his old Parzival spooky self yesterday, so today I hoped he would be better and he was - a lot better and much more confident!"
To some extent however, his renewed confidence created its own problems today. "I could ride forward a lot more, he was going so well I wanted to let him go when he was happy to do it, but as a result I got a bit ahead of my music so that wasn't perfect" Cornelissen explained.
She talked about how she keeps this great horse in such good shape at this late stage in his career. "I try to do as much of his work outdoors as I can, on the race-track and in the woods, doing piaffe and passage, that's how I train him now rather than in the arena, although of course sometimes you have to go in the arena, especially before a competition. He's top fit at the moment" she pointed out.
He certainly looked well on the road to challenging for his third World Cup Dressage title when the 2014/2015 Final arrives in Las Vegas, USA in six months time.
by Louise Parkes, edited by Eurodressage
Related Links
Scores 2014 CDI-W Lyon
Cornelissen Wins 2014 CDI-W Lyon Grand Prix
Eurodressage Coverage of the 2014-2015 World Cup show circuit