2014 CDI-W Lyon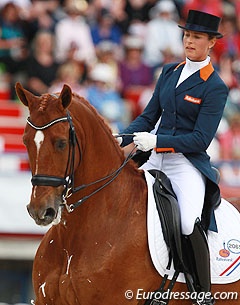 Dutch Adelinde Cornelissen and her 17-year old Parzival (by Jazz x Ulft) took out first place in the warm up Grand Prix at the 2014 World Cup Qualifier held in Lyon, France, on Thursday 30 October 2014. Scoring 78.620% Cornelissen edged out German Ulla Salzgeber on Herzruf's Erbe, who posted a seasonal high score of 77.440% for second place in the Grand Prix.
Seventeen horses are contesting the Lyon World Cup Qualifier, which is the second leg in the Western European World Cup League after the kick off event in Odense, Denmark, two weeks ago, which was won by Dutch Edward Gal on Undercover. The ground jury in Lyon included Judet (FRA), Clarke (GBR), Wust (GER), Fouarge (NED) and Umbach (LUX) but the experienced panel of four O-judgs could not get in unison with their scores.
Holland's routinier pair Cornelissen and Parzival posted a total score of 78.620% to win the test. Two judges scored the ride above 80% (Clarke 81.40% - Fouarge 82.30%) and three judges had her below 80% (Judet 79.30 - Wust 73.70% - Umbach 76.40).
"Parzival was a bit tense at the beginning today," Cornelissen commented. "He is used to outdoor competitions and I think he was a bit surprised by the ambient light. Still, I'm very pleased with his performance. Tomorrow is another day, but I'm confident. There is some really strong competition, so it should be fascinating."
Ulla Salzgeber's scores for her test on the 15-year old Rhinelander bred Herzruf's Erbe (by Herzruf x Caletto I) were more consistent across the board. Salzgeber finished second with 77.40%. Her high score was 78.200 (Judet, Fouarge) and her low score was 76.00 (Wust).
"Herzi went really well and was mistake free. He finished second with 77.44 and I'm incredibly happy," Salzgeber commented after her test.
Dutch Danielle Heijkoop missed out on the 2014 World Equestrian Games as her 15-year old Dutch warmblood Siro (by Gribaldi x Hemmingway) became injured in the summer with two hoof abscesses sustained right before Aachen. He recovered from those, competed at the Dutch Nationals at the beginning of August, but then knocked himself in training camp right before WEG. The black gelding is now back in action and at his first international. Siro convinced the panel of judges with his work. He scored 77.120% to complete the top three. 78.200 (Fouarge) was the high score and 75.300 (Umbach) was the low score.
French judge Isabelle Judet said the following about the Grand Prix: "The Grand Prix was of the highest quality. It's the first time we have hosted such a wonderful line-up for a stage of the world cup here. There are lots of mature horses, but also the flamboyant new generation with experienced riders. The French riders did well. Ludovic Henry's horse was enthusiastic, energetic, and showed good form. Noble Dream did some very good things and, particularly, he stayed calm, which is important for Marc (Boblet). As for the winner, Adelinde Cornelissen, she dominated everything. She is such a professional. Tomorrow, any of the top 6 have a chance of winning. It should be fun."
The World Cup Kur to Music takes place in Lyon on Friday evening 31 October 2014.
Photo © Astrid Appels
Related Links
Scores 2014 CDI-W Lyon
Eurodressage Coverage of the 2014-2015 World Cup show circuit