2014 Cadre Noir Annual Gala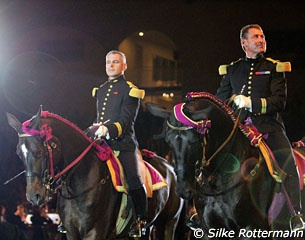 The "Musicals of Cadre Noir" are  traditionally the annual season closing exhibitions at France's institution of classical equitation in Saumur, France. During these four events in October, the Cadre Noir presents its horses in a gala exhibition with a live orchestra.
In 2014 the "L'Esemble Orchestral de Bruxelles" conducted by Jacques Vanherenthals underlined the horses' appearances with classical music.
On the evening of 18 October 2014 the audience in the sold out Grand Manège could not only witness the typical displays of Saumur's academic school of equitation, but also attend the ceremony which only takes place every few years, the official inauguration of a new ecuyer-en-chef, the chief rider at the Cadre Noir. With the "passation de cravache" the retiring chief rider symbolically hands his whip over to his sucessor. Colonel Jean-Michel Faure, Cadre Noir's 36th écuyer-en-chef since 2006, will be succeeeded by Colonel Patrick Teissrenc on 1 November 2014.
The 52- year-old Teisserenc is not unknown to France's national treasure of equitation. In 1988 he joined the institution to soon graduate as an instructor. From 1989 to 1992 he was écuyer at the Cadre Noir, taking part in the displays. Colonel Teisserenc, who is a graduate from France's prestigious military academy of St. Cyr, has competed in dressage up to Grand Prix level before taking on a new challenge as the 37th "Grand Dieu" of Saumur.
Text and Photos © Silke Rottermann
Related Links
History of French Equitation - Part I: Dressage a la Francaise
History of French Equitation - Part II: Modern French Classical Equitation
Classical Art of Cadre Noir
Cadre Noir, French Treasure of Horsemanship
French Equitation Inscribed on the UNESCO Intangible Heritage Representative List