2014 Global Dressage Forum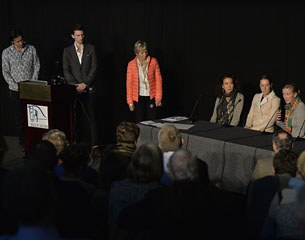 The 2014 Global Dressage Forum took place at the beautiful premises of Blue Hors Stud in Randbol, Denmark, where everyone has been very well looked after. Today was the second day of a thought-provoking and an inspring two-day-programme of the 14th edition of the Forum.
This morning the audience was literally blown away by three para dressage riders who not only shared their life stories but also demonstrated their amazing skills in the saddle. In a practical demonstration the three superstars, British Sophie Wells and Danish riders Stinna Tange and Annika Lykke Risum talked about overcoming challenges in terms of compensating for their missing aids - and focus on the abilities they have, rather than focus on their disabilities.
They expressed their regret about para dressage not being on the programme at the European Championships in Aachen next year. At the end of the Forum, the President of the Global Dressage Foundation, Her Royal Highness Princess Benedikte expressed her wish to help this discipline be part of the European Championships again - which immediately caused a firm applause form the audience.
The Princess phrased a plea to the organisers of the championships: "Participants in the 14th Global Dressage Forum strongly recommend the organisers of the European Championships in Aachen 2015 to include Para-equestrian in the programme as one of the disciplines."
The question of harmony was reviewed by former international dressage judge Jytte Lemkow through a slideshow of various photos of rider-and-horse combinations to give us a better understanding of what is harmonious when it comes to the size of the rider compared to the horse, the rider's attire, the rider's position and the horse's gaits etc. And all about harmony in dressage.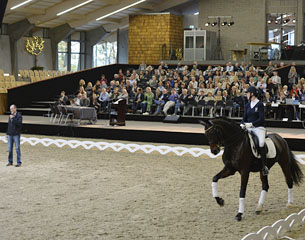 Freestyle composers Joost Peters and Tom Hunt shared with the audience how they compose a freestyle taking into account the appearance and the personality of both hore and rider. International dressage judge Katrina Wüst joined in for a discussion about freestyles, and a panel comprised of top riders Beatrice Ferrer-Salad, Charlotte Dujardin and Nathalie zu Say-Wittgenstein shared their experiences and their preferences in freestyles.
International dressage rider and trainer, Florida-based Danish Lars Petersen who is the former head rider at Blue Hors, made a practical demonstration with some of the Blue Hors riders and their quality horses at different training levels. Allan Grøn showed 4-year-old stallion First Choice (by Jazz x Negro) and 6-year-old Zick Flower (by Zack x Romanov), whilst Maria Anita Andersen showed the 12-year-old mare Loxana (by Diamond Hit x Argentinus). After the clinic Lars Petersen got the opportunity to explain into detail some of his techniques, and the panel of professionals acknowledged the good riding and the high quality of horses. Kyra Kyrklund and Richard Davison praised the clinic for being a lovely and down-to-earth practical demonstration in horsemanship and training.
-- GDF Press release
Related Links
2014 Global Dressage Forum Kicked Off at Blue Hors Stud in Denmark
2014 Global Dressage Forum to be Held at Blue Hors in Denmark
2013 Global Dressage Forum - Table of Contents