2014 CDI-W Odense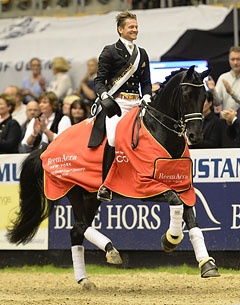 (FEI press release) The Dutch were in dominant form at the World Cup™ Dressage 2014/2015 Western European League opening leg at Odense in Denmark on Sunday 19 October 2014, where Edward Gal pipped Adelinde Cornelissen for the main honours in the Grand Prix Freestyle.
Gal posted a warning of his intent when topping yesterday's Grand Prix with Undercover. And he returned this afternoon to confirm that both he and his sensitive but talented 13-year-old horse are a force to be reckoned with going into the winter season. Cornelissen was also runner-up yesterday with her trusty chestnut 17-year-old gelding Parzival. Going last today, the pair scored 84.30. But this left them more than four percentage points behind Gal's winning mark of 88.625, while third place went to another World Cup Dressage double-champion, Germany's Isabell Werth partnering Don Johnson FRH.
Early target
It was fellow-German, Sönke Rothenberger, who set the early target when sixth of the 15 starters into the arena. The 19-year-old rider, who was a prolific winner in the dressage ring with the legendary family pony Deinhard B some years ago, transferred his interest to the sport of Jumping in 2010, but made a significant comeback to his original discipline last season at senior level. Riding the 15-year-old chestnut, Favourit, the young man who is studying Business Administration in Frankfurt threw down a score of 74.750 which would prove good enough for seventh place at the end of the day.
Danish 31-year-old, Agnete Kirk Thinggaard, then moved out in front when scoring 74.975 with the 11-year-old Jojo AZ. The busy mother-of-three took a career-break for eight years, and only returned to the sport in 2013. But she proved she has lost none of her edge when bouncing back this season, and she stayed out in front today until German star, Isabell Werth, produced the first result over 80 percent when earning 80.275 for a strong performance with Don Johnson FRH.
Yesterday this pair lined up fourth behind Ulla Salzgeber and Herzruf's Erbe in the Grand Prix, but today Salzgeber, back-to-back winner of the World Cup Dressage title with the great Rusty in 2001 and 2002, swopped places with her German counterpart when scoring 79.400.
Real battle
The real battle was played out between the final pair however, Gal setting out his stall with a performance that saw him collecting multiple scores of 10. Piaffe, passage and half-pass were highlights, and despite their best efforts Cornelissen and Parzival just couldn't rein them in.
Yesterday's Grand Prix winning score of 84.100 was a personal best for Gal, and today's result was the icing on the cake, going some way towards easing the deep disappointment of being unable to take Undercover to the World Equestrian Games™ in Normandy this summer due to a last-minute inflammation in the horse's spine. Gal instead rode Voice in the Dutch side that took team bronze.
"It was a very big disappointment at the time, but the health of the horse counts for everything and you have to move on, and today he felt really good" said the 44-year-old rider. He was particularly pleased because the arena at Odense presents a difficult environment for the gelding. "The spectators are sitting very high up along the side of the arena, and the arena is not so big so they feel very close" Gal explained.
The noise of the crowd, and the intense atmosphere, have been a real challenge to this horse throughout his career to date. But Gal feels Undercover is coming to terms with it, and with himself, as time goes on.
Under the spotlight
He has had the horse for two-and-a-half years now, and it has taken him all that time to gain his confidence and teach him to relax when under the spotlight. It seems all the hard work is really paying off.
"Yesterday he was really good, and today he was even more relaxed in the Freestyle. In the prize-giving today his heart was beating normally. Before, you could feel it beating so fast because he was so afraid! But today I got a really good feeling and I could ask him to do more and I could ride him through his extensions" Gal explained this evening.
He's now looking forward to the remainder of the World Cup™ Dressage 2014/2015 season and is targeting appearances in London, Amsterdam and 's-Hertogenbosch over the coming months. "London is one of my favourites - I really like that show" he said. And with the maximum 20 points on the leaderboard after today's great result, the 2010 champion has the World Cup™ Dressage 2014/2015 Final in Las Vegas already in his sights.
 by Louise Parkes for the FEI
Related Links
Scores 2014 CDI-W Odense
Gal and Undercover Get Personal Best Score in 2014 CDI-W Odense Grand Prix
Eurodressage Coverage of the 2014-2015 World Cup show circuit