2014 CDI-W Odense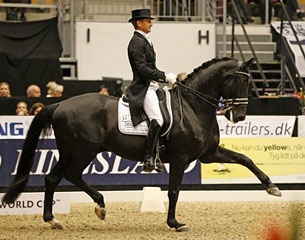 Dutch Edward Gal and his Dutch warmblood Undercover (by Ferro x Donnerhall) received a personal best score of 84.080 from a panel of judges willing to put whopping scores on the board at the season opener of the 2014-2015 Dressage World Cup circuit in Odense, Denmark, on Saturday 18 October 2014. Gal won the Grand Prix ahead of Adelinde Cornelissen and Parzival who also scored over 80%.
The battle for the top placings was a Dutch affair ending victoriously for Edward Gal, who bested Holland's long-time number one Adelinde Cornelissen and her 17-year old Parzival (by Jazz x Ulft). Cornelissen's massive 80,540% couldn't come close to Gal's personal best score today.
Two Germans followed in a distance with Ulla Salzgeber and Herzruf's Erbe (by Herzruf) conquering third place on 75,72% and Isabell Werth with Don Johnson (by Don Frederico x Warlant) finshing fourth on 75,2%.
Hans Peter Minderhoud made sure that fifth place was Dutch too, when he rode Flirt to 73,92%. The best home country rider was relative newcomer to the scene, Danish Agnete Kirk Thinggaard. Riding her  first World Cup event in the west Europian league, the Lego heiress finished six on the Hungarian bred Jojo AZ with 72.52%.
"I'm so so happy," said Thinggaard. "It was a tough field with a lot of the really good riders. Jojo was so good today and gave me such a wonderful ride!" Agnete added that she's looking forward to riding the freestyle. "If I can keep my placing as number six, it would be fantastic. I just want an experience as amazing this one tomorrow too - and I love the freestyle."
Photos © Jenny Abrahamsson
Related Links
Scores 2014 CDI-W Odense
Eurodressage Coverage of the 2014-2015 World Cup show circuit